The Rev. Andrew Twiddy will spend his sabbatical as a guinea pig of sorts. In January he and his family will jet off to Belize as the first participants in the Continuing Education for Global Ministry program, which places active Anglican Church of Canada clergy with an international partner for three months.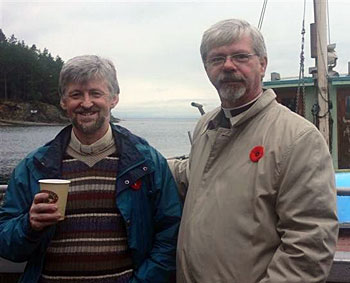 Through the work of General Synod's Partnerships department, Canadian Anglicans have several ways of serving with overseas Anglican partners, including the Theological Students International Internship Program (TSIIP) and Volunteers in Mission (VIM). This Continuing Education program is the first, however, that offers active clergy a taste of global ministry as a part of a continuing education program or a sabbatical.
"My goal is first of all to learn," said Mr. Twiddy, the rector of St. Anne's and St. Edmund's parish in Parksville, B.C. "What attracts me about this program is the way in which mission, service, and education are all blended into one."
With this new program, Canadian clergy will primarily support parish ministry in the partner's context, as decided in conversation with the local bishop. Participants are required to be active in their diocese, have three years of ministry experience and be recommended by their bishop. Participants raise most of their funds, but General Synod provides a small grant and support in setting up the placement.
Mr. Twiddy's journey has been three years in the making. He long felt moved to visit Belize, a diocese that only has five full-time clergy, and he also wanted to be transformed by an overseas experience, just as he had seen other TSIIP grads deepen their prayer life and engagement with social issues. The intrepid Mr. Twiddy, who had already driven to Mexico, also hoped he could travel to Belize by car.
But the three intervening years held some surprises. In August Mr. Twiddy married, and air travel seemed like a better option with his new family, including wife Sandy and 15-year-old daughter T.J.  Their 22-year-old son, James, is still taking the land route—by bus and train—and will meet up with the family in Belize. The family will stay until May, then stop in at Codrington College, an Anglican theological college in Barbados, on their way back to Canada.
In early January Mr. Twiddy will attend a mission orientation conference (hosted by the Canadian Churches Forum for Global Ministries) in Toronto,  along with the new TSIIP participants. On Jan. 31 the family flies out, and Mr. Twiddy will begin sabbatical time in earnest.
This will include parish ministry, but also rest. "I'm going to read and write and take some more silences and deepen my prayer space," he said.
This sabbatical rest comes at an especially good time for Mr. Twiddy and his family, who this fall suffered the loss of a son.
"I think truly bonding our family and being out of our local environment is a gift to us right now. We couldn't have scripted that as part of a program…but it was a gift from God to go away for months on end and to leave behind a context of pain and to find a healing space."
Mr. Twiddy said he enters this sabbatical program with an "open mind, open eyes, and open heart."
For more information on the Continuing Education for Global Ministry pilot project, contact Program Associate for Mission Education and Personnel Clementina Thomas by email or phone (416) 924-9199 ext. 361.
---
Interested in keeping up-to-date on news, opinion, events and resources from the Anglican Church of Canada? Sign up for our email alerts .