Daniel Brandsma's snapshot of a sunset Frisbee toss is the grand prize winner of General Synod's Marks of Mission photo contest. The photo features Mr. Brandsma's wife and sons, ages 3 and 5, playing at Craigleith Provincial Park near Collingwood, Ont., in summer 2012.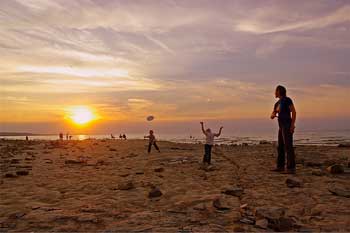 "It was one of those moments where I realized that I am blessed. I have a happy, healthy family and we're together in creation," said Mr. Brandsma, a community minister at St. George the Martyr Anglican Church, Toronto. "It was just a snapshot in the moment."
Contest judges—Vianney (Sam) Carriere, Art Babych, and Su McLeod—agreed the photo is "brimming with life" and interprets the second Mark of Mission: to teach, baptize and nurture new believers. The Marks of Mission are a framework for ministry used throughout the Anglican Communion.
As grand prize winner, Mr. Brandsma's photo will receive a $250 gift certificate for photo equipment. He said his wife and sons are lobbying for "a nice, hardcore, waterproof, shockproof, point-and-shoot camera."
Photography is a hobby for Mr. Brandsma, though he has shot weddings and events in the past. He uses a Pentax K20D, often with a Sigma wide-angle lens for landscapes, his first love. A native of Abbotsford, B.C., Mr. Brandsma first took photos of mountains and valleys. Gradually he has added people to his photos.
"Moving to Toronto was another step along the journey," he said. "Here I began to see the beauty in the details of architecture, graffiti and general 'urbanness,' and that yes indeed, God is fully present in the city."
Mr. Brandsma finds God in his church's diverse neighbourhood, squeezed between Chinatown and the Art Gallery of Ontario. As community minister, he organizes seniors' socials, hosts dinners with church families, and gets to know the people who sleep in the church's courtyard.
He also connects with his mobile espresso bar, which he transports by bike. Mr. Brandsma regularly pedals to farmers' markets, including (soon) the one that St. George sets up in its courtyard.
"It's a common denominator," he said. "From people on the streets to well-to-do families, they all wouldn't mind a coffee."
With an MDiv that emphasized global mission from Tyndale Seminary in Toronto, Mr. Brandsma said he was naturally drawn to a contest that focused on mission.
"What guides me in a lot of my thinking is to love God and to seek the greater good," he said.
"[Mission is] about understanding the ministry that God has given right around us…. It's about the acknowledgement of Christ's presence in all things. Even playing Frisbee—Christ is in it."
Runners-up:
Ms. Anne Oram, Port Hope, Ont. (Mark 1: To proclaim the Good News of the Kingdom)
Mr. Tony Hadley, Candiac, Que. (Mark 3: To respond to human need by loving service)
The Rev. Canon Ken Gray, Victoria, B.C. (Mark 4: To seek to transform unjust structures of society,to challenge violence of every kind, and to pursue peace and reconciliation)
The Rev. Jeffrey Metcalfe, Grosse-Île, Que. (Mark 5: To strive to safeguard the integrity of creation, and sustain and renew the life of the earth)
All photos mentioned here will be displayed at Joint Assembly in Ottawa this July and will be featured as highlight images in the Canadian church calendar. View all winning photos.
---
Interested in keeping up-to-date on news, opinion, events and resources from the Anglican Church of Canada? Sign up for our email alerts .