It is with sadness that the Anglican Church of Canada and Augsburg Fortress Canada announce that the Anglican Book Centre at 80 Hayden Street, Toronto, will close on Jan. 18, 2013. Canadian Anglicans will still be able to order resources online and by phone through Augsburg Fortress Canada.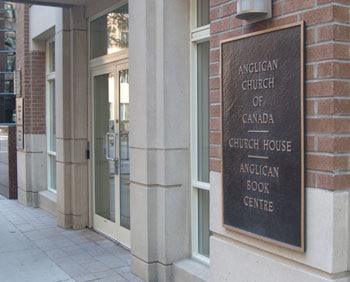 "Religious book and gift stores across Canada have faced significant challenges resulting in the closure of over 120 stores in the past 10 years," said Andy Seal, Director of Augsburg Fortress Canada/Anglican Book Centre.
"Sales at our Hayden St. store have decreased each year since 2009. By 2011 Toronto sales were 28% below the break-even level. In spite of hard work and innovation, the trend has continued in 2012."
Store revenues have declined because of an increase in web-based competition and the shift of readers purchasing e-books from a variety of sources. The store does not receive any funding from the Anglican Church of Canada or the Evangelical Lutheran Church in Canada.
Founded more than 100 years ago, the Anglican Book Centre operated for many years at the General Synod offices at 600 Jarvis Street. In 2004 General Synod opened up new offices around the corner at 80 Hayden Street and the store moved to the basement suite at this address.
In 2007, the Council of General Synod announced that the store was not financially viable and would close. The church would instead be served through a call centre and website.
This is when an opportunity arose for a partnership with Augsburg Fortress, the not-for-profit publishing arm of the Evangelical Lutheran Church in Canada, full communion partner of the Anglican Church of Canada. Augsburg Fortress took over management of the store in June 2007 and for two years the ministry was self-sustaining.
"At the time, we were all happy to delay the implementation of COGS's decision," said Mr. Seal, "But the time has now come where good stewardship requires that we put our resources into the Augsburg Fortress Canada call centre and website."
The Ven. Dr. Michael Thompson, General Secretary of the Anglican Church of Canada also recognizes that this closure is a way of ensuring that the rest of Augsburg Fortress Canada can continue its ministry. However, he acknowledges this closure will be sad news for many Anglicans.
"We recognize that the Anglican Book Centre was for many years the hot stove of the Anglican Church of Canada," said Mr. Thompson.
"It's where people gathered to buy books and other things, and where you often would run into someone you want to see. We're already experiencing that loss and probably have since the store moved with us to 80 Hayden."
Mr. Seal and Mr. Thompson thank the customers and dedicated staff who have been part of this ministry for many years. They hope that Canadian Anglicans will still connect with Augsburg Fortress online or by phone for their ministry supplies.
The Anglican Book Centre store at 80 Hayden Street will be available to serve customers as usual through fall, Advent, and Christmas. It will operate during the same hours as Church House for stewardship reasons. The store will close permanently on Friday, January 18. During and after this time, Canadian Anglicans can access material through the Augsburg Fortress Canada Kitchener location, website, and call centre.
Augsburg Fortress Canada, Kitchener, Ont. location:
500 Trillium Drive, Unit 19
Tel: (800) 265-6397
Hours: Monday to Friday 9:00 a.m.to 5:30 p.m.; Saturday 10:00 a.m.to 5:00 p.m.
---
Interested in keeping up-to-date on news, opinion, events and resources from the Anglican Church of Canada? Sign up for our email alerts .