Let General Synod's Advent podcasts be your companion this season. Take them for a morning walk. Listen while you do the dishes. They are designed as devotional anchors during a time often stuffed with tinsel and parties.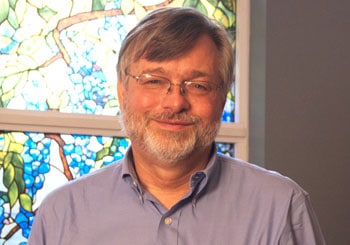 The Rev. Dr. Arthur Boers is the writer and presenter of Fully Present, the series of six Advent podcasts. Dr. Boers is a professor, Benedictine oblate, and author of many books including Living into Focus: Choosing What Matters in an Age of Distractions (Brazos, 2012) and The Way is Made by Walking: A Pilgrimage Along the Camino de Santiago (InterVarsity, 2007).
Dr. Boers's incisive writing and gentle delivery bring us deeper into the season. In one podcast he recalls meeting an unpleasantly chatty man at a bus stop. He wonders, does this moment point to the incarnation?
In another podcast, Dr. Boers debunks the stereotypes of blithely happy Christians, uncovering instead a joy that exists and thrives during tough times.
Throughout it all, Dr. Boers weaves in the Biblical texts of the season with personal down-to-earth reflections.
Dr. Boers currently holds the R.J. Bernardo Family Chair of Leadership at Tyndale Seminary and is curate at St. Paul's L'Amoreaux Anglican Church in Scarborough, Ont.
Podcasts are available through iTunes and FeedBurner.
Fully Present continues General Synod's tradition of offering seasonal podcast series to enhance personal devotional practices during Advent and Lent. Have an idea for a future series? Email Senior Editor Ali Symons.
Listen to the first podcast now
Watch a video introducing the podcasts
Subscribe via iTunes
Subscribe via FeedBurner
Learn more about the Rev. Dr. Arthur Boers
---
Interested in keeping up-to-date on news, opinion, events and resources from the Anglican Church of Canada? Sign up for our email alerts .