Domestic violence, women in leadership, and women's access to technology—these are a few of the issues that the International Anglican Women's Network (IAWN) would like to discuss with bishops and their spouses at the Lambeth Conference, the meeting of all Anglican bishops in July 2008.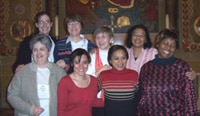 "If the bishop and his or her spouse catch the vision of empowering women, great things can happen," said Canon Alice Medcof, a Canadian member of the IAWN steering group.
IAWN is an official network of the Anglican Communion and aims to be the global voice of Anglican women by reporting their work and concerns to the Anglican Consultative Council. The international IAWN steering committee keeps informed through provincial links, like Canadian Elizabeth Loweth.
Canon Medcof notes that since IAWN was only founded in 1996, it is still working to increase its profile throughout the Anglican Communion. She said Lambeth is an excellent place to explain what IAWN is all about.
One challenge, however, is finding the time. The Lambeth program for bishops includes Bible studies, plenary sessions, optional seminars and some free time when bishops can attend fringe events about other aspects of the Anglican Communion. The Lambeth Spouses' Conference, which runs simultaneously, has a similar program.
IAWN has booked two stalls and three fringe events at Lambeth. At the stalls they will distribute literature and chat with bishops and their spouses. "We are offering all people at Lambeth the opportunity to say what they think are the most important problems facing women," said Canon Medcof.
For the 45-minute fringe events, IAWN is planning a discussion on women and violence, and several meditation walks on women in the Bible. Specific plans will shape up over the next few weeks as the international steering group discusses plans by email. A smaller group is meeting in Toronto to plan details, including arranging accreditation and travel.
Canon Medcof has been a key force in helping IAWN plan for Lambeth. A priest in the Diocese of Toronto, she has advocated for women's empowerment in the Anglican Communion since the 1970s. Canon Medcof attended both Lambeth 1988 and 1998, and she said these experiences have been useful in planning for Lambeth 2008.
Recently IAWN's Canadian branch organized a delegation of 13 Canadian Anglican women who travelled to the United Nations Commission on the Status of Women in New York, Feb. 25 to March 7. These women joined over 60 other representatives from other parts of the Anglican Communion who participated in various sessions around the conference theme, "Financing for gender equity and the empowerment of women."
IAWN's work is volunteer-based, and their plans for Lambeth are requiring an extra boost. If you're interested in paying your way to Lambeth and helping IAWN on the ground, email Canon Medcof. If you're interested in making a donation to help pay for their Lambeth costs, you can contribute through the Compass Rose Society by emailing the treasurer, Bruce Chambers.
---
Interested in keeping up-to-date on news, opinion, events and resources from the Anglican Church of Canada? Sign up for our email alerts .