The appointment of Sheilagh McGlynn as youth animator for the Anglican Church of Canada marks a new chapter in the church's future in youth ministry—the earliest effects of which may be felt in the national Youth Secretariat.
Established at the 2010 General Synod in Halifax, the Youth Secretariat brings together a group of representatives from across the church to promote discussion and training in the area of youth ministry, create support networks for related projects, and encourage gatherings of young people and youth leaders. Members meet in person when required and communicate via teleconference every two months.
Core projects of the Secretariat since its creation have included Stronger Together, an annual gathering of Anglican and Lutheran youth ministers from the diocesan/synod level; the biennial Canadian Lutheran-Anglican Youth (CLAY) gathering; Trailblazing, an online theological formation resource for youth ministry; and blogging on related topics through platforms such as justgeneration.ca and The Community.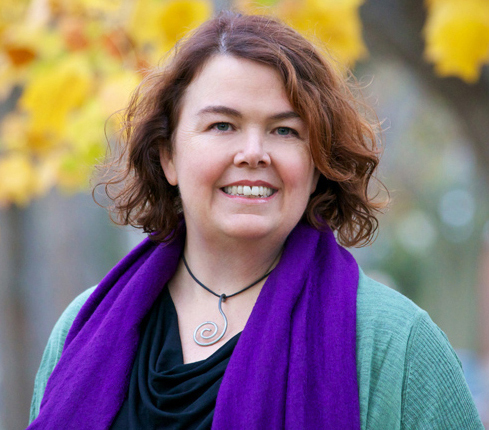 Formerly serving as justgeneration.ca facilitator, McGlynn's current role as youth animator provides an opportunity for the Secretariat to reassess its priorities and approach to youth ministry. Reflecting that transitional stage, the Secretariat opted not to hold a Stronger Together gathering in 2017.
"We took a break for this year … It was decided that it would actually be better to spend that time with [Sheilagh] and figure out where we're going in terms of the Secretariat," interim chair Su McLeod said.
"Sheilagh's coming at the ministry from a very different place," she added. "She already has a lot of networks within the [Anglican Church of Canada] and in some places where we haven't been able to make those connections before … What we're hoping is that Sheilagh will help us to build some of those bridges, and to have a greater representation of the [Church] involved in national youth ministry initiatives."
For McGlynn, whose role on the committee includes both administrative and visioning tasks, the position of youth animator offers a means to help facilitate the work of the Secretariat.
"Structurally, [members of the Secretariat] haven't had consistent support, so I want to offer the consistent support to make that a very functional committee," McGlynn said.
Current membership and outlook
The present Youth Secretariat are members of each ecclesiastical province.. Members include McLeod (Ontario), Mark Dunwoody (Canada), Caitlin Reilley Beck (B.C. and Yukon), and McGlynn, as well as Primate's World Relief and Development Fund youth council representative Jessica Steele. The member's position from Rupert's Land is currently vacant.
Beck described the Secretariat as in a "period of transition and new development in terms of how the national church is going to support and be involved in youth ministry", which has been accompanied by growing awareness of the need to coordinate youth ministry at a national level.
"There's an increased energy around the various ways that youth ministry is already working in different places, and how we can share knowledge and resources and experience," Beck said.
"That's always been a thing that the Youth Secretariat has done, but there are always new things happening across the country … In Ottawa, there's a really great Youth Internship Program that people are looking at. There's interest in how we can be involved in our full communion relationship with the Lutheran church more."
Dunwoody said the priority for the Secretariat remained serving as a forum for discussion of the state of youth ministry across Canada, connecting with diocesan representatives and bringing their stories to the wider church.
"With the change of leadership, we're really going to be working with Sheilagh to try and form policy to try and help her, because youth ministry's changing so quickly [in] the church of Canada in terms of how people are doing it, why they're doing it, where they're doing it," he said.
One such change has been an increasing age range for the young people engaged in ministry.
"Youth ministry used to be you were certainly just working with high school[-aged youth]," Dunwoody said. "Now we're finding people working with young adults to young children in the same area, in the same church."
Priorities on the horizon
As they prepare for their next meeting in October, members of the Secretariat are reflecting on their biggest priorities moving forward and how to best support youth ministry across Canada.
McLeod suggested that one near-term focus might be building a greater awareness of the National Youth Project. In the past, the National Youth Project has been announced through CLAY, but the Secretariat may be considering ways to make the project "more of a national thing for people who are not involved in CLAY to still be a part of."
The Secretariat is also exploring ideas for training that connects youth ministry with mental health. One upcoming example, in partnership with Huron College, is a conference on theology and mental health that will take place in May 2018 to coincide with Mental Health Awareness Week.
Another likely focus, Dunwoody said, will be exploring "what it means to fully integrate the Indigenous ministries, especially around young people," and to include Indigenous peoples more in the rhythms of the church while enabling non-Indigenous Anglicans to learn from their Indigenous counterparts.
"I don't know if they have been really represented in the past, and that's going to be an interesting area of work of how we enable that to happen in dioceses and parishes … I think that's going to be an area of work that Sheilagh's going to really help us with because of her experience, especially with communities in the north and so on."
---
Interested in keeping up-to-date on news, opinion, events and resources from the Anglican Church of Canada? Sign up for our email alerts .