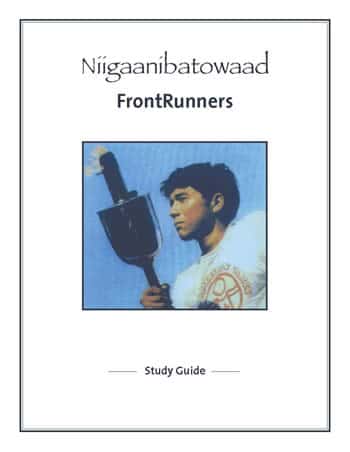 In 1967, ten Indigenous young men were chosen to carry the torch from St. Paul, Minnesota, to Winnipeg for the Pan American Games. When the runners arrived at the stadium, they were not allowed to enter. Instead, a non-Aboriginal runner was given the honour of carrying the torch inside. Thirty-two years later, the province of Manitoba issued an official apology to the runners, nine of whom were students at residential school.
Niigaanibatowaad: FrontRunners explores this story, and the despair and abuse suffered in the residential school system. It is a story of survival, hope, reconciliation, and a dream for a new beginning that transcends hatred and racism.
Niigaanibatowaad: FrontRunners is a dramatic presentation, written by Laura Robinson, filmed and now available on DVD through the National Film Board. The Anglican, Presbyterian and United Churches worked together to produced a discussion guide with resources to go with the DVD. Two writers, Adele Finney of St. John's Anglican Church in Peterborough, and Dixie Shilling with the United Church in Curve Lake First Nation, were contracted to develop the guide.
Resources:
The film may be obtained by
ordering from the National Film Board at 1-899-267-7710 or www.nfb.ca
requesting a copy from your local public library.