The Anglican Archives Directory is a listing of Canadian Anglican Archives that acquire, preserve and provide appropriate access to diocesan archival records. Each Diocesan archives is responsible for retaining records created by the respective diocese and they also hold the historical parish records for each diocese which includes the parish birth, marriage and death records. Where noted some archival records are accessible at the local university or provincial archives. The Anglican General Synod Archives holds the records of the national office of the Anglican Church of Canada and they can assist in directing inquiries.
Genealogical enquiries requiring baptismal, marriage, or burial parish registers need to be addressed to the diocese in which the event took place. If you don't know what diocese the event took place you may use the map provided below or e-mail the General Synod Archives at [email protected]
Map of Dioceses and Ecclesiastical Provinces in Canada
To view archive information on each area, click on the map below.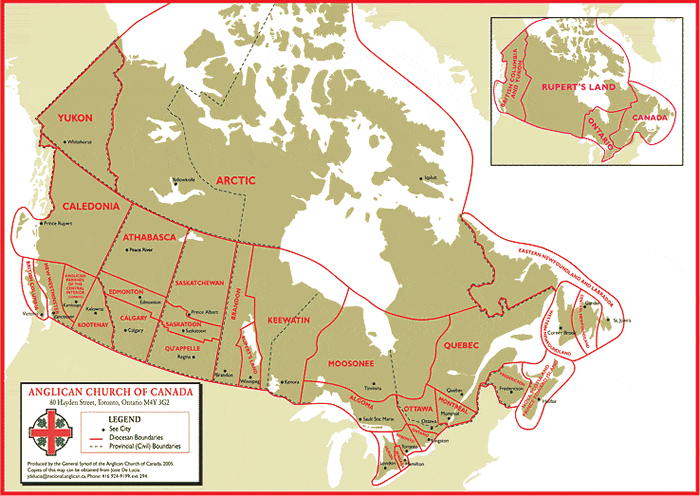 Anglican General Synod Archives
Nancy Hurn
80 Hayden Street
Toronto, ON M4Y 3G2
Phone:  416-924-9199 x279
Fax: 416-968-7983
E-mail: [email protected]
Hours: Tuesday – Thursday 9:00 am – 4:30 pm by appointment only
Diocese of Algoma & Ecclesiastical Province of Ontario Archives
Both Housed at Algoma University
Ken Hernden, University Librarian & University Archivist
Algoma Diocesan Archivist
Arthur A. Wishart Library
Algoma University
1520 Queen St.East
Sault Ste. Marie, ON P6A 2G4
Phone: 705-949-2101
Fax: 705-949-6583
Archives Webpage
The Ven. Harry Huskins, Ecclesiastical Province of Ontario Archivist
Diocese of Algoma Synod Office
Box 1168
Sault Ste. Marie, Ontario
P6A 5N7
Phone:  705-256-5061
E-mail: [email protected]
Diocese of the Arctic Archives
Doug Doak
Synod Office
PO Box 190
Yellowknife, NT X1A 2N2
Phone:  867-873-5432
Fax: 867-873-8478
E-mail: [email protected]
Housed at the General Synod Archives
80 Hayden Street
Toronto, ON  M4Y 3G2
Phone:  416-924-9199  x279
E-mail: [email protected]
Diocese of Athabasca Archives
The Anglican Centre
Box 6868 Peace River, AB T8S 1S6
Phone:  780-624-2767
E-mail: [email protected]
Housed at Provincial Archives of Alberta
8555 Roper Road
Edmonton, AB T6E 5W1
Phone:  780-427-1750
Fax: 780-427-4646
Archives e-mail: [email protected]
Archives website: Provincial Archives of Alberta
Hours: Tuesday – Saturday 9:00 am – 4:30 pm
Diocese of Brandon Archives
Synod Office
403 13th St
Brandon, MB  R7A 4P9
Phone: 204-727-7550
Fax: 204-727-4135
E-mail: [email protected]
Diocese of British Columbia Archives
Jacquie Nevins
900 Vancouver St.
Victoria, BC V8V 3V7
Phone:  250-386-7781 Ext.107
Fax: 250-386-4013
E-mail: [email protected]
Archives webpage: http://www.bc.anglican.ca/pages/archives
Hours: Monday 9:30 am – 3:00 pm; Wednesday 9:30 am – noon
Diocese of Caledonia Archives
Cliff Armstrong
201-4716 Lazelle Avenue
Terrace, BC  V8G 1T2
Phone:  250-627-2243
Fax: 250-635-6026
E-mail: [email protected]
Hours: Monday – Thursday 11:00 am – 2:00 pm
Diocese of Calgary Archives
The Rev. Cathy Fulton
Synod Office
180-1209 59th Ave. S.E.
Calgary, AB T2H 2P6
Phone:  587-320-1346
E-mail:  [email protected]
Parish register requests: [email protected]
Requests only Monday – Thursday 9:00 am – 4:00 pm
Central Interior, Anglican Parishes of the (formerly Diocese of Cariboo) Archives—
See Territory of the People
Diocese of Central Newfoundland Archives
Synod Office
34 Fraser Road
Gander, NL A1V 2E8
Phone:  709-256-2372
Fax: 709-256-2396
Diocese of Eastern Newfoundland and Labrador Archives
Synod Office
19 King's Bridge Rd.
St. Johns, NL A1C 3K4
Phone:  709-576-6697
Fax: 709-576-7122
E-mail: [email protected]
Hours: Monday and Wednesday 9:00 am – 12:00 pm
Diocese of Edmonton Archives
Housed at Provincial Archives of Alberta
Kathryn Ivany
8555 Roper Road
Edmonton, AB T6E 5W1
Phone:  780-427-1750
Fax: 780-427-4646
E-mail: [email protected]
Archives website: Provincial Archives of Alberta
Hours: Tuesday – Saturday 9:00 am – 4:30 pm
Diocese of Fredericton Archives
Lorna WIlliams
115 Church St.
Fredericton, NB E3B 4C8
Phone:  506-459-1801
E-mail: [email protected]
Housed at the Provincial Archives of New Brunswick
Joanna Aiton Kerr
c/o Provincial Archives of New Brunswick
P.O. Box 6000
Fredericton, NB E3B 5H1
Phone:  506-453-2637
E-mail: [email protected]
Hours: Monday to Friday 10:00 am – 5:00 pm
Saturday 8:30 am-5:00 pm
Diocese of Huron Archives
John H. Lutman
Huron University College
1349 Western Road
London, ON  N6G 1H3
Phone:  519-645-7956
Fax: 519-645-8669
E-mail: [email protected]
Archives webpage: www.diohuron.org
Hours: Monday-Wednesday, Friday 9:00 am -12:30 pm, 1:30 – 4:00 pm by appointment
Diocese of Kootenay Archives
Kathryn Lockhart
#201 – 380 Leathead Rd.,
Kelowna, BC V1X 2H8
Phone:  778-478-8310
Fax: 778-478-8314
E-mail: [email protected]
Archives webpage: http://www.kootenayanglican.ca/archives/
Hours:  Monday to Friday, 8:30 am to 4:30 pm
Ministry of Mishamakweesh, Indigenous Spiritual (formerly Diocese of Keewatin) Archives
Housed at the General Synod Archives
80 Hayden Street
Toronto, ON  M4Y 3G2
Phone:  416-924-9199  x279
E-mail: [email protected]
Diocese of Montreal and the Ecclesiastical Province of Canada Archives
Richard Virr, Archivist
E-mail: [email protected]
Synod Office
1444 Union Ave
Montreal, QC H3A 2B8
Phone:  514-843-6577
E-mail: [email protected]
Diocese of Moosonee Archives
Administration Office
2-113 B Third Street
Cochrane ON P0L 1C0
Phone:  705 272 4310
Housed at Laurentian University Archives
Marthe Brown, Diocesan Archivist
935 Ramsey Lake Road
Sudbury, ON P3E 2C6
Phone:  705-675-1151 x3339
E-mail: [email protected]
Archives webpage: Anglican Church Archives
Diocese of New Westminster and the Ecclesiastical Province of British Columbia and the Yukon Archives
Marche Riley
Diocese of New Westminster
1410 Nanton Ave.
Vancouver, BC V6H 2E2
Phone:  604-684-6306 x 230
E-mail: [email protected]
Archives webpage: vancouver.anglican.ca/resources/archives
Diocese of Niagara Archives
John Rathbone
252 James St. N.
Hamilton, ON  L8R 2L3
Phone:  905-527-1316 ext 450
Fax: 905-527-1281
E-mail: [email protected]
Housed at Mills Library
William Ready Division of Archives and Research Collections
McMaster University Libraries
1280 Main St. W.
Hamilton, ON L8S 4L6
Phone:  905-525-9140 x22079 or 22789
Fax: 905-546-0625
E-mail: [email protected]
Diocese of Nova Scotia and Prince Edward Island Archives
Lorraine Slopek
1340 Cathedral Lane
Halifax, NS B3H 2Z1
Phone:  902-406-8982
Fax: 902-425-0717
E-mail: [email protected]
Hours: By appointment only
Tuesday 1:00-5:00 pm; Wednesday and Thursday 9:00am-5:00pm 
Diocese of Ontario Archives
Paul Banfield
E-mail: [email protected]
Street Address: 754 Baker Crescent, Unit 3
Mailing Address: P.O. Box 490 Kingston Main
Kingston, ON K7L 4W5
Phone: 613-777-0539
E-mail: [email protected]
Web: ontario.anglican.ca/wp/the-anglican-diocese-of-ontario-archives-adoa/
Hours: By appointment only
Diocese of Ottawa Archives
Glenn J Lockwood
71 Bronson Ave.
Ottawa, ON K1R 6G6
Phone:  613-680-8585
Fax: 613-232-7088
E-mail: [email protected]
Archives webpage: ottawa.anglican.ca/archives
Hours: Monday to Wednesday 8:30 am – 12:00; 1:00 – 4:30 pm
Diocese of Qu'Appelle and the Ecclesiastical Province of Rupert's Land Archives
Trevor Powell
Synod Office
1501 College Avenue
Regina, Saskatchewan S4P 1B8
Phone:  306-585-0390
E-mail: [email protected]
Housed at Provincial Archives of Saskatchewan, Regina Office
University of Regina
3303 Hillsdale Street
Regina, SK
S4S 0A2
Phone:  306-787-4068
Fax: 306-787-1197
E-mail: [email protected]
Quebec Diocesan Archives
James Sweeny
Bishop's University
2600 College St.
Sherbrooke, QC  J1M 1Z7
Phone:  819-822-9600 x2567
E-mail: [email protected]
Hours: by appointment only
Diocese of Rupert's Land Archives
Gloria Romaniuk
935 Nesbitt Bay
Winnipeg, MB R3T 1W6
Phone:  204-992-4203
Fax: 204-992-4219
E-mail: [email protected]
Archives webpage: http://www.rupertsland.ca/about/archives/
Diocese of Saskatchewan Archives
Jackie Hobbs
1308 Fifth Avenue East
Prince Albert, SK S6V 2H7
Phone:  306-763-2455
Fax: 306-764-5172
E-mail: [email protected]
Diocese of Saskatoon Archives
Peter R. Coolen
Synod Office
PO Box 1965
Saskatoon, SK S7K 3S5
Phone:  306-244-5651
Fax: 306-933-4606
E-mail: [email protected]
Housed at Provincial Archives of Saskatchewan, Saskatoon Office
Murray Building, University of Saskatchewan
3 Campus Drive
Saskatoon, SK
S7N 5A4
Phone:  306-933-5832
Fax: 306-933-7305
E-mail: [email protected]
Territory of the People Archives
Marche Riley
Diocese of New Westminster Synod Office
1410 Nanton Ave
Vancouver, BC V6H 2E2
Phone: 604-684-6306 ext.  230
E-mail: [email protected]
Web: vancouver.anglican.ca/resources/archives
Diocese of Toronto Archives
Mary-Anne Nicholls
135 Adelaide St. East
Toronto, ON M5C 1L8
Phone:  416-363-6021 x219
Fax: 416-363-7678
E-mail: [email protected]
Archives webpage: http://www.toronto.anglican.ca/parish-administration/archives/
Hours: Tuesday and Wednesday 9:00 am – 4:00 pm
Diocese of Western Newfoundland Archives
John Edgar
25 Main Street
Corner Brook, NL A2H 1C2
Phone:  709-639-8712
Fax: 709-639-1636
E-mail: [email protected]
Diocese of Yukon Archives
Sarah Usher
Diocesan Administrator
Box 31136
Whitehorse, YT Y1A 5P7
Phone:  867-667-7746
Fax: 867-667-6125
E-mail: [email protected]
Housed at the Yukon Territorial Archives
Yukon Archives
Box 2703
Whitehorse, YT
Y1A 2C6
Phone:  867-667-5321
Fax: 867-393-6253
Archives e-mail: [email protected]
Archives website: Yukon Territorial Archives
List compiled by
General Synod Archives
[email protected]