Hundreds of Indigenous Anglicans are expected to walk to Pinawa, Man., to attend the national Sacred Circle gathering Aug. 5 to 12. The "Walking the Dream" initiative is designed to raise awareness about crises in Indigenous communities as well as the Covenant and Journey of Spiritual Renewal, a call for self-determination and partnership.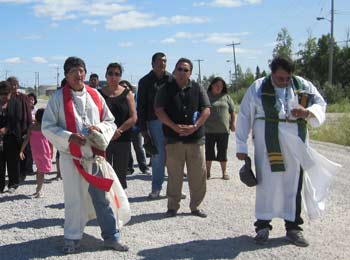 Several groups of walkers will meet Aug. 5 in Beausejour, Man. for a 60 km. relay walk to Pinawa, where they will light the sacred fire that will burn during Sacred Circle. Local walks are already planned in northern Manitoba, Saskatchewan, and the Arctic.
Walks were inspired by the Sacred Circle theme, "Walking the Dream," said event organizer Archdeacon Larry Beardy. He said Indigenous Peoples across the country long for real steps towards self-determination.
"We have a sense of Moses's people walking in the wilderness, what they were going through," he said. "But now in Pinawa we see a promise of our promised land in view. We want to go to Sacred Circle and get out of the wilderness."
On July 22, Mr. Beardy organized a local walk in his home community of Tataskweyak, in northern Manitoba. It began with Biblical reflection and then some 50 people processed five kilometres through the town, joined by Manitoba Keewatinowi Okimakanak Grand Chief David Harper.
The Tataskweyak walkers stopped six times to pray, modeling the Biblical story of Joshua's procession around Jericho. Wherever they stopped they surveyed local people for prayer requests about homelessness, broken relationships, and young people.
"There seemed to be a lot of support," said Mr. Beardy. "Especially when you're walking in a local community when the issues are so real."
In an invitation posted online, National Indigenous Anglican Bishop Mark MacDonald invited all to participate by holding their own walks or praying for the event.
Indigenous Ministries staff members are encouraging walkers to dress for the weather, drink lots of water, and notify local authorities of their plans. Many walkers are handing out bookmarks with copies of the Covenant.
More than 225 people are registered to attend the seventh national Sacred Circle for worship, fellowship, and decision-making. There will be updates on the progress towards Indigenous bishops in Saskatchewan and Manitoba.
Sacred Circle will for the first time offer simultaneous translation in selected Indigenous languages.
Staff from the Truth and Reconciliation Commission may also visit to gather statements from former residential school students who are attending the meeting. A team of young Sacred Circle participants will also provide multimedia coverage during the event.
Planning a walk? Get more information and share your plans with the Rev. Canon Ginny Doctor, Indigenous Ministries coordinator, byemail or phone (416) 924-9199 ext. 626.
---
Interested in keeping up-to-date on news, opinion, events and resources from the Anglican Church of Canada? Sign up for our email alerts .