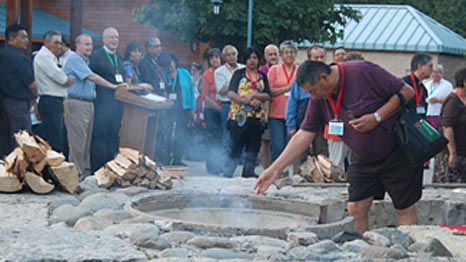 Anglican Council of Indigenous Peoples'
Seventh national Sacred Circle
August 5-12, 2012
Wilderness Edge Retreat and Conference Center, Pinawa, Man.
Since 1988 we the First Nations, Inuit, and Metis members of our local Anglican churches have gathered with the Primate of the Anglican Church of Canada and twelve non-Indigenous church leaders to talk about our spiritual lives, our experiences as the church in the past, the present, and our hopes for the future for our families and our communities, and in our relationships with the Anglican Church of Canada.
We are asking each Indigenous congregation to send one young person, one elder and one clergy or lay leader. We will consider individual registrations as space permits. For more information email the Rev. Canon Ginny Doctor or contact her by phone (416) 924-9199, ext. 626.
2012 Sacred Circle blog
News from the seventh national Sacred Circle in Pinawa, Man., where more than 200 Indigenous Anglicans are gathered Aug. 5 to 12 for worship and decision making. 
August 12
August 11 (Day 6: daily reflection)
August 10 (Day 5: daily reflection)
August 9 (Day 4: daily reflection)
August 8 (Day 3: daily reflections)
August 7 (Day 2: daily reflection)
August 6 (Day 1: daily reflection)