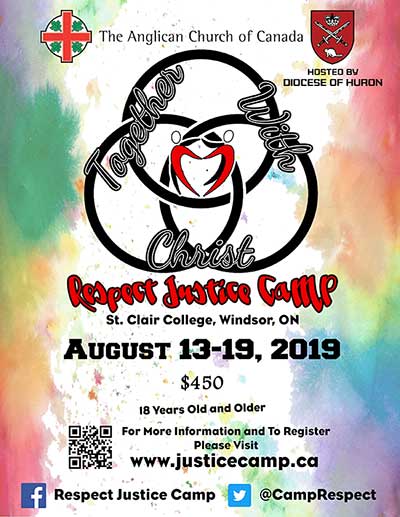 Justice Camp began as a grassroots movement within the Anglican Church of Canada. It brings together people of all ages from across the country to encounter a variety of social justice issues up close and first hand. Through a program of directed immersion experiences, biblical reflection, worship, and relationship building, participants will form friendships and develop skills to become effective social justice leaders within their own local communities.
The ninth Justice Camp, Respect, will be hosted by the Diocese of Huron from August 13th to 19th, 2019.  This year's theme will explore ways in which we, people of faith, can honour one another, and also God's creations, so that we, in turn, can collaborate in meaningful and progressive ways.
For more information visit justicecamp.ca.
Previous camps
Bien Común: Promesa del Reino de Dios/Common Good: Promise of the Reign of God, Diocese of Niagara and the Episcopal Church in Cuba – May 2016
Land! Justice Camp, Edmonton, August 2014
Shalom Justice Camp (rural and urban), Peterborough – August 2012
Community Justice Camp, Hamilton – May 2010
Poverty Justice Camp, Halifax – August 2009
Environment Justice Camp, Victoria – May 2007
Advocacy Justice Camp, Ottawa – May 2006
Food Justice Camp, Winnipeg – August 2005
For further information about Justice Camp, please contact:
Dr. Ryan Weston (email)
Lead Animator, Public Witness for Social and Ecological Justice