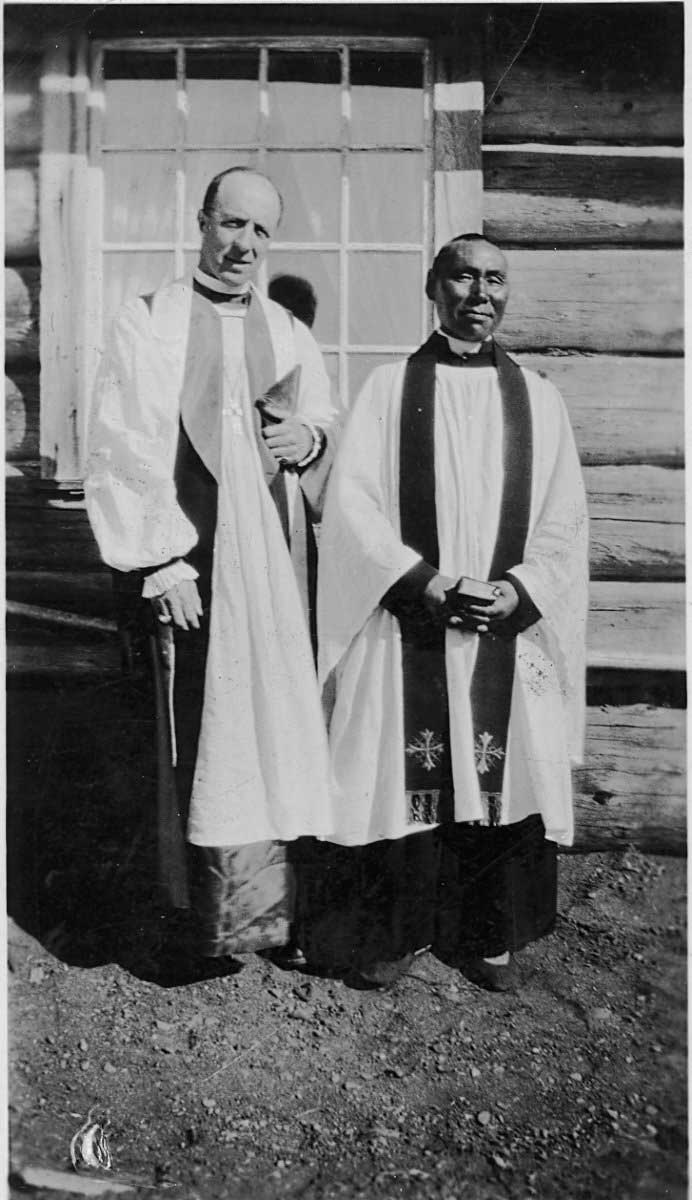 Diocese of the Arctic fonds. — 1850-2009, 2012, 2013.
25.60 m textual records and other material.
Administrative History
The Diocese of the Arctic was formed in 1933 and incorporated in 1961.  The territory of the diocese spans the North West Territories, Nunavut Territories and Northern Quebec.  Originally the See city was in Aklavik with All Saints as the Pro-Cathedral, but in 1972 the See city became Frobisher Bay (Iqaluit), because the Mackenzie River area had become its own Episcopal District.  St. Jude's Cathedral was built in Iqaluit especially to be the Cathedral for the Diocese of the Arctic.  The diocese ministers primarily among Inuit people, but has also included Natives and Caucasians in its mission stations.  From the earliest days the missionaries in the Arctic were involved in translation, medical services and education.
The Diocese of the Arctic has had six diocesan bishops – Archibald Lang Fleming (1933-1949), Donald Ben Marsh (1950-1973), John Reginald Sperry (1974-1990), John Christopher Richard Williams (1991-2002), Andrew Philip Atagotaaluk (2002-2012), David Parsons (2012- ).  Suffragan Bishops were introduced in 1963 with Henry George Cook (1963-1966).  Since then others have followed – James Charles MacLeod Clarke (1979-1986), J.C.R. Williams (1987-1990), Terrence Owen Buckle (1993-1995), Paul Oodleteta Idlout (1996-2004), Andrew Philip Atagotaaluk (1999-2002), Larry David Robertson (1999-2010), Benjamin Tatigat Arreak (2002-2010), and Darren McCartney (2012- ).
The diocese was formed from the northern portions of four dioceses – Yukon (formerly Selkirk), Keewatin, Moosonee, and Mackenzie River.  In 1955 the diocese was expanded to include the Mackenzie River area, until 1966 when it was transferred to the spiritual jurisdiction of the diocese of Athabasca.  In 1971 the Mackenzie River area became the Episcopal District of the Mackenzie with the Rt. Rev. Henry Cook as Bishop.  The district rejoined the diocese of the Arctic in 1974.
Scope and Content
Fonds consists of records created or accumulated by the Diocese of the Arctic. The records cover missionary work in the Arctic and include missions that were originally administered by the dioceses of the Yukon (formerly Selkirk), Keewatin, Moosonee, and Mackenzie River (1884-1970).
The fonds is arranged in series which include:
Administration records, bishops records, parish records, translation records, hospital records, financial records, audio-visual records, graphic records, cartographic records, printed material, and collected material from various Arctic missionaries.
The bishops records include clergy files, women workers, catechists and lay workers, mission station files, diocesan files, pastoral letters, executive committee files, Arthur Turner Training School and catechist schools files.
Notes
Title based on contents of fonds.
Fonds consists of 25.60 m of textual records, over 2000 photographs, 24 microfilm reels, maps, and printed material.
Material deposited by the Diocese of the Arctic Synod Office in two major deposits in 1971 and 1996, then in regular intervals.
Reproductions
Microfilm available for some material in M95-02 and M96-07.  See finding aids for details.
Microfilm available of Arctic Synod Journals (1961-1978) and Arctic News (1929-1982).
Restrictions to Access
Some restrictions apply. Check finding aids for closed files.
Finding Aids
Files lists and inventories available.
Reel lists available for microfilm accessions.
Item level descriptions available for most of the photo accessions
Accruals
Further accruals are expected.
Related fonds
Related material can be found in the following fonds: A.L. Fleming fonds (M70-1), E.J. Peck fonds (M56-1), I.O. Stringer fonds (M74-3), Cody Collection (M56-4), Canham Collection (M56-2), Girling fonds (M80-43), J.T. Griffin fonds (M59-5), Bompas family fonds (M74-3, M89-3), C.E. Whittaker fonds (M83-5, Mf78-2), A.D. Butler fonds (M88-4), Marsh family fonds (M2002-01), Leslie Corness fonds (M2003-04).
Repository
Anglican Church of Canada. General Synod Archives
Corporate Names
Anglican Church of Canada. Diocese of Yukon.
Anglican Church of Canada. Diocese of the Arctic
Anglican Church of Canada. Episcopal District of the Mackenzie
Anglican Church of Canada. Diocese of Selkirk
Anglican Church of Canada. Ecclesiastical Province of Rupert's Land
Accession numbers
M71-4, M95-02 (Mf84-1), M96-07 (Mf97-01), M2000-04, M2003-05, M2004-07, M2006-03, M2006-04, M2006-15, M2006-16, M2006-18, M2007-08, M2009-08, M2010-10, M2010-15, M2011-05, M2011-09, M2011-11, M2012-01, M2013-04, Mf83-2, Mf83-12, Mf86-3, Mf88-2, P7501, P7507, P7530, P7563, P8454, P8492, P8495, P84111, P84136, P8502, P8803, P9215, P9219, P9314, P9901, P2003-03, P2003-11, P2005-03, P2006-05, P2006-11, P2007-01, P2010-04, P2010-13, P2011-14, AV2000-02, AV2011-04, AV2011-12