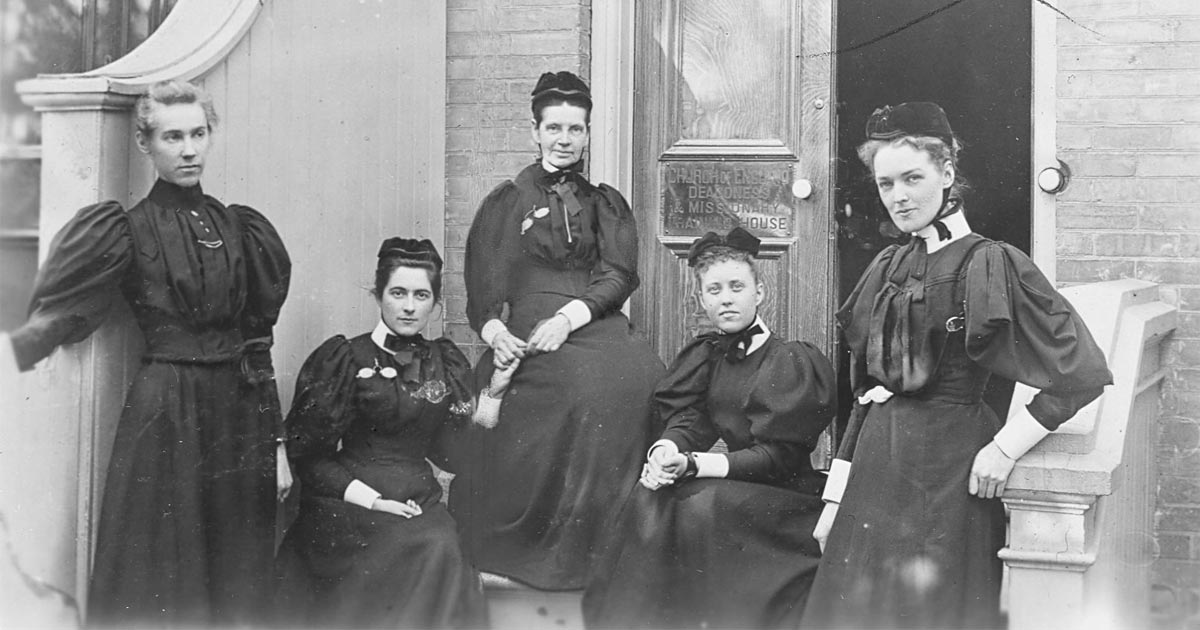 The General Synod Archives also collects the records created by organizations affiliated with the Anglican Church of Canada which are of historical significance to the national Church.  These include missionary societies, religious communities, church societies and councils, diocesan and provincial synods.
A
Accra Diocesan Association fonds
Alert Bay, BC. St. Michael's Indian Residential School
Anglican Church Bible and Prayer Book Society fonds
Anglican Church of Canada. Insignia collection
Anglican Church of Canada. Orders of Service collection
Anglican Study Group in Church Unity fonds
Anglican Women's Training College (AWTC) fonds
Archdeacon's Association fonds
B
Biographical scrapbook collection
Bishop's Messengers of St. Faith's fonds
British Columbia and Yukon Church Aid Society fonds
Brotherhood of Anglican Churchmen fonds
C
Canadian Church Missionary Society fonds
Canadian Church Union fonds
Canadian Malvern Conference fonds
Canadian Mothers' Union fonds
Canadian School of Missions fonds
Canterbury Club fonds
Church Army in Canada fonds
Church of England in Canada. – Certificates collection
Clergy Reserves fonds
Colonial and Continental Church Society fonds
Columbia Coast Mission fonds
Committee on Chaplain Services in the Forces fonds
Community of the Sisters of the Church fonds
Conference of Anglican Religious Orders in the Americas (CAROA) collection
Conference of Bishops fonds
Conference on Canadian Missionaries & East Asia fonds
Council for the Faith fonds
Cumberland-Devon Mission fonds
D
Diocese of Algoma, Series 501
Diocese of Brandon, Series 504
Diocese of Cariboo, Series 508
Diocese of Honan fonds
Diocese of Huron, Series 511
Diocese of Moosonee collection
Diocese of Quebec – Quebec cemeteries collection.
Diocese of Saskatchewan fonds
Diocese of Saskatchewan, Series 528
Diocese of the Arctic Fonds
Diocese of Toronto, Series 530
Diocese of Yukon, Series 531
Doctrine and Worship fonds
E
Episcopal collection
Evangelical Churchman Publishing Company fonds
F
Federal War Service Commission of the Churches in Canada fonds
Fellowship of Deaconesses fonds
Fellowship of the Maple Leaf fonds
Fellowship of the West fonds
Fort Dunvegan fonds
French language translations collection
G
Great Britain. Colonial Department fonds
H
House of Bishops of the Church of England in Canada.
I
International Anglican Litugical Consultation fonds
K
Koinonia Youth Fellowship fonds
M
Missions to Seamen fonds
Missions to the Jews collection
N
Nathanael Institute fonds
National World Program
Nippon Sei Ko Kai fonds
P
Pan-Anglican Congress fonds
Portraits collection
Provincial and Diocesan Synods of the Anglican Church of Canada collection
S
Sisterhood of Saint John the Divine fonds
Society for the Propagation of the Gospel in Foreign Parts fonds
Society of Catholic Commonwealth fonds
Society of St. John the Evangelist fonds
Society of St. Margaret fonds
Sorrento Centre fonds
Spadina-Bloor-Bathurst Interchurch Council fonds
St. Augustine Foundation fonds
U
Upper Canada Clergy Society fonds
W
World Council of Churches fonds