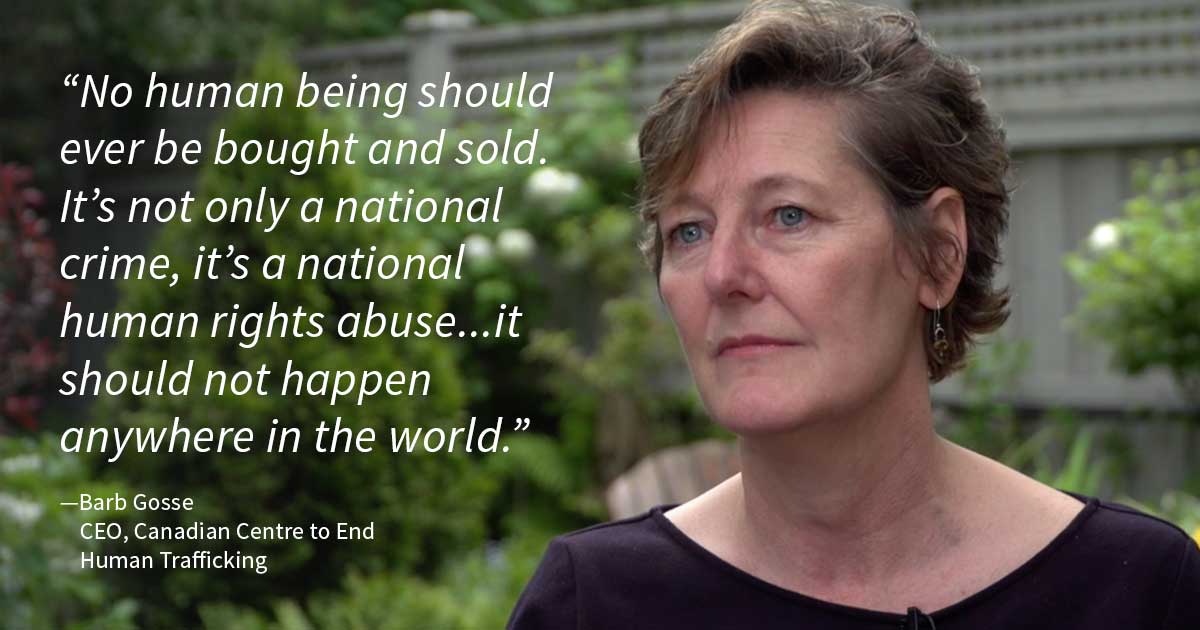 The Anglican Church of Canada works with partners across Canada and around the world to end human trafficking and modern slavery. Explore these partnerships below and find out how you can get involved.
For more information on our partners within Canada, contact Dr. Ryan Weston, Lead Animator, Public Witness for Social and Ecological Justice. For our global partners, contact Dr. Andrea Mann, Director, Global Relations.
National Full Communion and ecumenical partners
National civil-society partners
Anglican Communion
International Anglican Women's Network (IAWN)
Key Initiatives:
Anglican Alliance
Key Initiatives:
Regional Communion gatherings and consultations for communicating local ministry on issues of local and global concern toward developing strategic Communion awareness and leadership
Global Freedom Network
Mapping global Communion work against human trafficking and modern slavery
Anglican Church of Melanesia
Key Initiatives:
Christian Care Centre Sanctuary for Rescued Female Victims and Gender Justice Education
Anglican Church in Aotearoa, New Zealand and Polynesia
Diocese of Wellington
Tip of the Iceberg: Addressing exploitation and trafficking in people throughout Aotearoa New Zealand
Two day conference July 26-27, 2017. News story.
Church of England
Key Initiative: 

Church of the Province of West Africa
Key Initiatives:
Triangle of Hope to raise awareness through interpretation  and atone for West Africa's complicity in the Transatlantic Slave Trade (1400s-1800s) and to raise about modern slavery in West Africa today. The triangle of Hope is an initiative of a new three way partnership between the Dioceses of Cape Coast, Ghana, Liverpool, England, and Richmond, USA.
Church of North India
Key Initiatives:
Diocese of Calcutta, Cathedral Relief Service, skills training with previously trafficked and vulnerable teens and women living in Calcutta's poorest communities, and primary school classes for children in preparation for public state schools.Canadian Contact:
Ms. Sheila Johnston, Canadian Friends of Cathedral Relief Service, The Parish of St. Mark, Surrey BC. (604) 535-8841
Diocese of Durgapur, Anti-Human Trafficking Program, promoting awareness in schools, through leaflets and drama presentations of modes and methods of traffickers operating locally, and assisting victims lodge complaints with the police.
Freedom Sunday
Freedom Sunday is a day for global faith communities to stand together in prayer and take action to put an end to this horrendous crime.
Global Freedom Network
The Global Freedom Network is committed to eradicate modern slavery by engaging and uniting faith leaders around the world to take spiritual and practical action to eradicate modern slavery. We empower faith leaders to mobilise their efforts and work in collaboration with the private, public and civil sectors to end modern slavery.
International Ecumenical partners
Churches Witnessing with Migrants
Key Initiatives:
Analysis, theological reflection, advocacy and movement building focused on enforced migration of all kinds globally
Annual consultations prior to the UN Forum on Migration and Development
Christian Conference of Asia
Key Initiatives:
Pacific Conference of Churches
Article on the initiatives of the Pacific Conference:
World Council of Churches
Saying that human trafficking and migrant smuggling constitute modern-day slavery, the Central Committee of the World Council of Churches (WCC) urges its member churches to join this challenge, and inspired by the Gospel, to contribute to the awareness and prevention of human trafficking and migrant smuggling in each of our areas of mission.