THE BATTLE OF THE ATLANTIC
On September 3rd, 1939, the German Navy received a signal to open hostilities with England at once.  Seven hours later, the passenger liner SS Athenia was sunk by submarine U-30.  Thus began a running battle that lasted until the final day of the Second World War in the European theatre.  Canada declared war against Germany on September 10th, 1939 and the Royal Canadian Navy, the Royal Canadian Air Force, and the Merchant Navy joined the battle.
The Battle of the Atlantic pitted Allied naval and air forces against the notorious German submarine "wolf-packs", whose prey were the convoys of merchant ships carrying valuable war material and personnel across the ocean.  It was a bitter struggle.  Although the Battle of the Atlantic was fought at sea, it touched the life of virtually every Canadian.  Not only did men and women from across the country serve in the Navy, Air Force and Merchant Navy, but the overseas trade they were defending was vital to Canada.  In order to preserve this critical trade and build up the supplies necessary for victory, it was essential that the convoys reach their destinations.
The Battle of the Atlantic ended with V-E Day on May 8th, 1945.  During the long bitter struggle, the Royal Canadian Navy and Royal Canadian Air Force had participated in the escort of at least 200 million tons of shipping and had sunk 52 U-boats.  The battle however, had been costly to Canada.  Merchant ship losses totalled over 70 and 24 Canadian warships were lost.  Fatal casualties in the Merchant Navy amounted to over 1700, in the Navy to over 2000, and in the Air Force to more than 900.
Canadian ships and seamen, and the naval and air forces used for the defence of shipping, may well have made the most important of all Canadian contributions in the Second World War.  The Battle of the Atlantic is thus an important element in the nation's history and is remembered with respect in the Canadian navy, air force and merchant marine.
Let us remember …
HMCS FRASER
HMCS CHARLOTTETOWN
HMCS REGINA
HMCS BRAS D'OR
HMCS OTTAWA
HMCS ALBERNI
HMCS MARGAREE
HMCS LOUISBOURG
HMCS SKEENA
HMCS OTTER
HMCS WEYBURN
HMCS SHAWININGAN
HMCS LEVIS
HMCS ST CROIX
HMCS CLAYOQUOT
HMCS WINDFLOWER
HMCS CHEDABUCTO
HMCS TRENTONIAN
HMCS SPIKENARD
HMCS ATHABASKAN
HMCS GUYSBOROUGH
HMCS RACOON
HMCS VALLEYFIELD
HMCS ESQUIMALT
Let us remember:
5 SQUADRON
8 SQUADRON
10 SQUADRON
11 SQUADRON
113 SQUADRON
116 SQUADRON
117 SQUADRON
119 SQUADRON
145 SQUADRON
160 SQUADRON
161 SQUADRON
162 SQUADRON
404 SQUADRON
405 SQUADRON
407 SQUADRON
413 SQUADRON
415 SQUADRON
422 SQUADRON
423 SQUADRON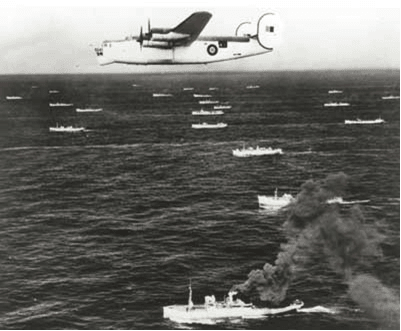 Battle of the Atlantic Sunday commemorates the sacrifices of sailors, merchant seaman, Royal Canadian Air Force and Canadian Army personnel who gave their lives in the North Atlantic.