Current Ordinariate Newsletter Articles – Easter 2016A Word from our Bishop
Holy Week and Eastertide 2016
As you know by now and as you will see elsewhere in this newsletter, my successor Padre Nigel Shaw was chosen by members of the Anglican Military Ordinariate on March 5th and ratified by the Primate and the four Metropolitans (Regional Archbishops). This is good news indeed and we wish Nigel, Janet and their family every blessing in this new and blessed ministry…  [more…]
One Week Later….
One week later the reality of the election is just starting to settle in. It has been some time that the possibility of being elected was present but the actuality is of a different order. That I will soon be releasing from the CAF in order to undertake these new responsibilities is now confirmed and not just a theoretical possibility. I must state that it is difficult to accept leaving military service though I am quite excited by the new ministries that await…    [more…]
Previous Editions of the Newsletter
Other Stories of Interest
 New Chaplain General for the Canadian Armed Forces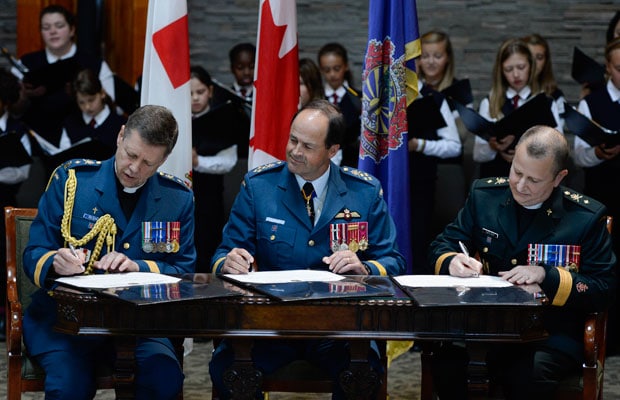 Brigadier-General John Fletcher was today appointed Chaplain General of the Canadian Armed Forces in a ceremony at the Beechwood Memorial Centre in Ottawa.The event was presided over by the Chief of the Defence Staff, General Tom Lawson, with Brigadier-General Fletcher taking over responsibility for supporting the religious needs of Canadian Armed Forces (CAF) members and their families from the outgoing Chaplain General, Brigadier-General Karl McLean. [More…]
Indigenous Ministries Sacred Circle Video highlights: Indigenous military chaplains
Sacred Circle heard a presentation on Indigenous Peoples in the military by Major the Rev. Catherine Askew and Vice President Victor C. Flett C.O., Canadian Aboriginal Veterans and Serving Members Association of Canada.
YouTube Video: Sacred Circle 2012: Indigenous military chaplains
Archdeacon Karl Mclean Leads Worship For Duke And Duchess Of Cambridge
On Sunday 3 July 2011, the Royal couple, the Duke and Duchess of Cambridge were on day three of their visit to Canada.  Sailing overnight they arrived in Quebec City onboard HMCS Montréal.  That early Sunday morning they gathered with the ship's company and several Quebec City guests for Morning Prayer, a Divine Service worship service led by our Archdeacon Emeritus, Padre Karl McLean, former Archdeacon to the Canadian Forces and current Chaplain General. [more…]
Our Ordinariate Remembers Bishop John Sperry
by Padre Mike Peterson
Bishop John R. Sperry stands in a long tradition of Anglican missionaries and evangelists to the Arctic that includes Isaac Stringer and Edmund James Peck.  [More…]
Anglican Journal Articles
Jerusalem calls Canadian chaplain
ALI SYMONS, ANGLICAN CHURCH OF CANADA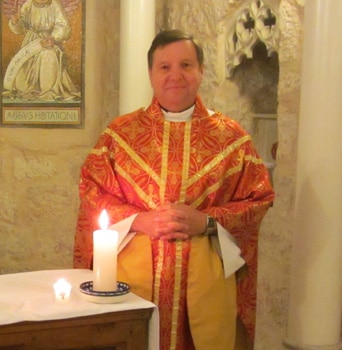 July 12, 2012 –
You can't say no to Jerusalem. It's like saying no to your mother.
That's how Padre John Organ said he felt when the bishop of Jerusalem first asked him to be his chaplain in the Holy Land. On July 14 the Ottawa-based military chaplain, 55, will move to Jerusalem with his wife Irene. For the next three years they will support Indigenous Christians in the Diocese of Jerusalem.  [More…]
See also: http://www.anglicannews.org/news/2012/07/installation-of-the-revd-canon-john-organ,-bishop-suheils-new-chaplain.aspx
Anglican chaplains bring "spiritual breath" to Haiti
Ali Symons, Anglican Church of Canada
February 26, 2010 – When Canada's Disaster Assistance Response Team (DART) arrived in Jacmel, Haiti, two days after the earthquake, the staff included medics, engineers, and a chaplain, Anglican Padre Shaun Turner. Today, eight chaplains—two of them Anglicans—provide spiritual and ethical support to the Canadian Forces in their humanitarian mission to Haiti, devastated by a Jan. 12 earthquake that killed more than 200,000 people and displaced another million.    [more… ]   
Aboriginal priest finds her calling as a military chaplainMARITAS N. SISON
STAFF WRITER
Nov 1, 2009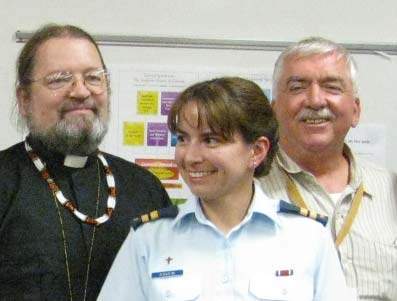 Rev. Capt. Catherine Askew distinctly remembers the moment when she knew she wanted to be a military chaplain to the Canadian Forces. She was 17 years old and an undergraduate student at university. She had been thinking that a job as an administration clerk would give her a useful skill and some pocket money. Then she met a military chaplain who introduced her to the work of the chaplains' corps.  [more…]
Anglican chaplains help soldiers cope with grief, pain
LEIGH ANNE WILLIAMS
staff writer


Feb 1, 2009 Two Anglican chaplains spent Christmas in Afghanistan, in a month when nine Canadian soldiers died.Peter Coffin, Bishop Ordinary to the Canadian Forces, and Rev. Col. John Fletcher made the trip to support other chaplains as well as the Canadian troops. The visit coincided with a particularly hard time for all the troops as they dealt with the death of nine comrades. …[more…]