Messy Church in Grande Prairie
(Wednesday, January 13, 2015) Grande Prairie has an intriguing demographic profile: it has the youngest average age in all of Canada. This knowledge has sharpened the focus of Christ Church, the local Anglican congregation, located 456 km NW of Edmonton in the Diocese of Athabasca. The Rev. Janice Orr, Vocational Deacon, says: "We have Sunday School on Sunday mornings as well as a Children's Time… We love these events—and we love the children—but find that few parents, despite best intentions, actually get to church on a Sunday morning."
[Click here for more]
Lac La Biche's brave and dedicated congregation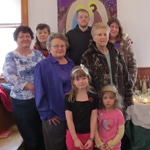 Tucked into the southern shore of Lac La Biche is a community of 2500 people. Located 200 km northeast of Edmonton in the Diocese of Athabasca, the town of Lac La Biche is supported by the oil patch, forestry, agriculture and commercial fishing and has a cultural mix of French, Cree, English, Russian and Lebanese residents.
In this community is an Anglican church—small in number but, as member Mary Lehoux describes, full of faith, "faith that God will guide us through each day."
[click here for more]
Faithlift. Ministering to local needs in Athabasca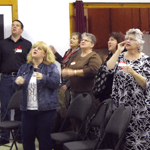 On a warm Sept. evening in Grande Prairie, AB, a group of about 20 Anglicans listen intently as Bishop Fraser Lawton (Athabasca) reads the story of Peter stepping out to walk on water in response to his Lord's call. Their weekend together at Christ Church Anglican will include delicious meals, contemporary praise music, Bible teaching and deep prayer—all part of a weekend mission event called FaithLift.
[click here for more]
Ordination an answer to "over 30 years of prayer"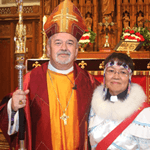 On Nov. 10, Aigah Attagutsiak was ordained to the diaconate at Ottawa's Christ Church Anglican Cathedral. This event was an answer to "over 30 years of prayer" for the Rev. Roger Briggs. Briggs is Chaplain to the Inuit congregation meeting at St. Margaret's Vanier in Ottawa and has been closely involved in Deacon Aigah's theological training and preparation for ordination. Deacon Aigah, who moved to Ottawa from Arctic Bay in 1998, is the first Inuk to be ordained in a Southern diocese.
[click here for more]
The Gospel behind bars
On a snowy Sunday afternoon, following a busy morning in his Iqaluit parish, Rev. Cyrus Blanchet drives to Baffin Correctional Centre.  But he admits that there are days he just doesn't want to go: "Sometimes it just gets tiresome, dragging myself out there on a cold day, going in there with my bag of hymn books and Bible…and the place has a smell to it."  Still, he goes—and he knows he doesn't go alone.  "The good Lord goes with me and before me…I'm trusting the Lord too—that I'm here for his purposes and he'll take care of me. Even when I feel like not going, I go anyway and I'm always glad I did."
[click here for more]
Circumpolar Conference highlights role of Church in northern culture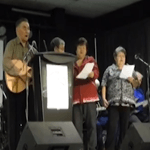 This past July, several Anglican bishops and many other Arctic Anglicans participated in the 2014 Inuit Circumpolar Conference held in Inuvik, NWT (in the Diocese of the Arctic). Inuit from regions around the world including Alaska, the Inuvialuit of the NWT and northern Yukon, Nunavut, Nunavik, Labrador, Greenland and Russia met in Inuvik.
The organization, founded in 1977 and which has grown to include representatives of over 150,000 Inuit, exists to promote unity amongst Inuit groups.
[click here for more]
Urban indigenous ministry growing in the Diocese of Ottawa
In the Ottawa neighbourhood of Vanier, a group of Inuit Anglicans gather to worship every Sunday at 11:00, following the 9:00 English service. The hymns and liturgy are in Inuktitut and now, since the completion of the Inuktitut Bible in the summer of 2012, the Bible readings are too. These worshippers are some of around 2000 Inuit now living permanently in Ottawa.
[click here for more]
Family ministry in Teslin
'Locally-raised clergy' is a familiar term in Council of the North dioceses—and nobody knows this better than The Rev. Sarah Usher. Sarah is a non-stipendiary Deacon in the Diocese of the Yukon. In addition to her roles as Diocesan Administrative Officer and as a member of the ministry team at Whitehorse's Church of the Northern Apostles, she also serves part-time as a Minister of Presence at the parish of St. Philip's in Teslin. One Sunday a month she makes the two-hour trip on the Alaska highway from Whitehorse to Teslin to serve the needs of her small but dedicated congregation.
[click here for more]
St. George's Brandon—feeding the hungry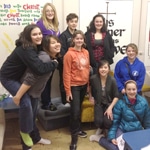 Whether it's grocery store gift cards on the offering plate, home-cooked meals tucked away in the parish freezer, non-perishable food items in a cart in the narthex, or hot dogs and hot chocolate delivered to people living on the streets, the parishioners of St. George's Brandon in the Diocese of Brandon have made it their mission to feed the hungry.
St. George's is located in a low-income residential area in Brandon and Father Chad McCharles, Incumbent since 2012, says the neighbourhood residents, like many Canadians who are struggling financially, often find themselves a few days from payday and they just can't make it.
[click here for more]
Making crosses—building relationships
Twice last year, about a dozen men from St. David's Anglican in Prince Albert (Diocese of Saskatchewan) gathered to assemble wooden crosses. One of the men cut the cross pieces before they met. Then the group, aged all the way from 13 years to a man in his eighties, met to sand, assemble, stain and string the cross necklaces. The Rev. Norbert Haukenfrers, Rector of St. David's, said they used the "Harley Davidson method of Assembly—one artisan from start to finish on each cross."
[click here for more]
Healing in Eastmain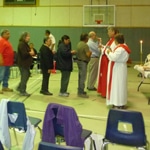 The Rev. Dr. Marilyn van Duffelen is not afraid of a challenge. The Priest-in-charge at St. Mark's in Eastmain, QC has seen her community's struggle to heal from past wounds—and felt called to action.
This past August a healing gathering was held in Eastmain in the Diocese of Moosonee. The Cree Nation of Eastmain is the smallest of the Cree communities around James Bay. "There's around 900 people here, half of them under the age of 16," says van Duffelen.  The 3-day event, which culminated in a Eucharist with anointing with healing oil, featured Gospel singing, craft exchanges, traditional food, a surprise concert and, most central to the event, healing circles.
[click here for more]
Ranch House ministries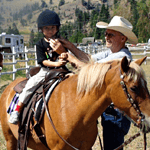 Kamloops, in the heart of Interior BC's ranching country, is surrounded by mountains and desert landscape. Shaped like a "Y" and sitting at the junction of the North and South Thompson Rivers, its economy is based on logging, mining, cattle ranching and a large university. Tucked into one of its lower income neighbourhoods is St. George's Anglican Church, one of the Anglican Parishes of the Central Interior.
The Rev. Captain Isabel Healy-Morrow, St. George's priest, says Kamloops is "a beautiful place but there are not as many jobs as there could be. And some people, because of their health or mental illness, will always be struggling."
[click here for more]
Messy Church—Yukon style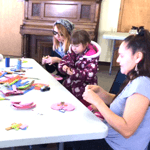 A few years ago, calling a church "messy" might have inspired an impromptu work bee complete with mops and pails, brooms and dustpans.
Today, however, the "Messy Church" moniker is not about dust and clutter, but rather about churches finding fresh and creative ways to connect—both with people who once knew something about church but became disengaged and with those who have never known anything at all about church but are open to learning more.
[click here for more]
St. George's Brandon
"Where are all the young people? We need more young people!"
This is the anxious cry heard in churches across the country. While the Anglican Church has yet to come up with a definitive solution as to how to retrieve a lost generation of young people, The Reverend Father Chad McCharles, Incumbent of St. George's Anglican Church in Brandon (Manitoba), has some ideas about where to start.
[click here for more]
Clergy Conference in Baker Lake, Nunavut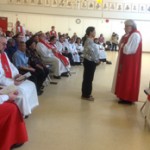 Baker Lake, NU was the setting for the Diocese of the Arctic's recent Clergy Conference. In the final days of this past March, travellers from across the vast diocese began to arrive, flying into coastal Rankin Inlet and catching their 30-min. connecting flights to Baker Lake, a community of 1900. 320 km from Hudson Bay, Baker Lake is the Arctic's only major inland settlement.
[click here for more]
Saskatchewan ordains four new priests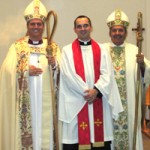 Four recent ordinations in the Diocese of Saskatchewan were marked by reverent worship, firm exhortations to Gospel preaching—and a great deal of feasting.
Christopher Dow was ordained on the Feast of St. Luke, October 18, 2013, at St. Mary's Anglican Church in Birch Hills.
[click here for more]
Q&A with The Rev. Richard Bruyere (Diocese of Keewatin)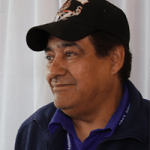 CNC: Tell me the name of your community.
RB: Sagkeeng First Nation. It's near Pine Falls, on the mouth of the Winnipeg River. And Sagkeeng means "mouth of the river"—where the river runs into the lake.
CNC: And tell me about the community you minister to there.
[click here for more]
Interview with The Rt. Rev. Adam Halkett (Diocese of Saskatchewan)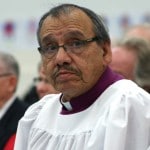 CNC: Tell us about where you live and work.
AH: I live in Prince Albert [SK] now—I moved to Prince Albert because my office is there.  My home community is in Montreal Lake, it's an hour north of Prince Albert.
[click here for more]
Northern Bales—long distance shipping and shopping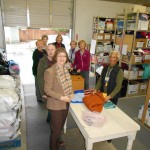 Several times a year, Yukon parishes receive a "Northern bale"—a 40x18x18 package of supplies including good used clothing, bedding and hand knit garments, small housewares, layettes for babies, clothes and plenty of warm, wooly socks. Yukon diocesan Administrator, the Rev. Sarah Usher, says that parishes are also able to fill out forms, indicating what is most needed.
[click here for more]
Council of the North diocese partners with Algoma in urban native ministry
Several years ago, the son of a northern Ontario chief, an Anglican, died in a Thunder Bay hospital.  The chief said that the Church had failed him and his family because his son did not receive a visit by an Anglican priest.  When Bishop Stephen Andrews (Algoma) became aware of this, he was deeply concerned about the need for better support for indigenous Anglicans in his diocese.
[click here for more]
Yukon models ministry of presence
In August of 2012, Terry and Ida Reid loaded a year's worth of belongings onto their half-ton truck and left Newville, in Central Newfoundland, to head west and north. "We were leaving our friends and family, our house–and definitely our comfort zone.  We felt it was a calling–and we responded."
[click here for more]
Interview with The Rt. Rev. Tom Corston (Bishop of Moosonee, Retd)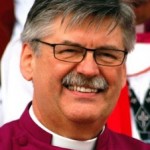 Council of the North Communications(CNC): Tell us about the changes that are taking place in Moosonee.
Tom Corston(TC): The diocese over the last few years has started to see some difficult changes, mostly brought about by the economic situation in the one-industry towns in the southern part of the diocese and the church has struggled because of that.  You know, if the industry dies, the community struggles.  So the church has been struggling along with it.
[click here for more]
A new diocese born out of "the dream of the elders."
The Anglican Church of Canada will soon have a new diocese.  On July 6, the General Synod approved Resolution B001, a proposal that an area mission in Northern Ontario become an indigenous diocese—bringing to fruition plans that have been decades in development and which, according to Bishop Lydia Mamakwa, were born out of "the dream of the elders."  The new diocese is the result of "a lot of work, time and commitment and dedication."
[click here for more]
Athabasca's "Archdeacon for Mission Development"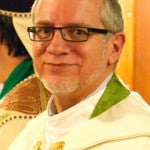 Anyone who's spent significant time working in the Church at any level—parish, diocesan, or national—knows it is struggling to adapt its structures to new realities: an increasingly secular culture, aging congregations and depleted treasuries.
In the Council of the North there has been a move in recent years to face these new realities with innovation and an openness to change.
[click here for more]