Here is a list of resources to aid parishes and individuals in learning more about the Council of the North and in supporting the mission of the Council of the North.
Christmas Cards
At the suggestion of a parishioner, the Anglican eStore is producing Christmas cards for purchase this year, where proceeds will go toward supporting ministries in the Council of the North. Two design options are available and can be ordered as a set of 12 for either design, or a set of 12 with 6 of each design. Each set of cards is printed on recycled paper, and with 13 envelopes. Each card features a Christmas greeting inside, along with a Bible verse to tie into the photo on the front of the card. Click here to order.
Northern Witness: A 5-Session Bible Study from the Council of the North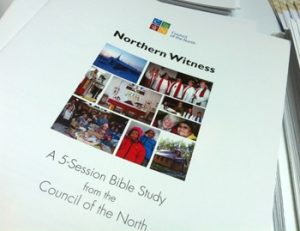 Using themes of Solidarity, Mission & Service, Trust & Treasure, Healing and Partnership, this 5-module study uses stories of northern ministry to help illuminate the chosen Bible passages. Each module also invites you to deepen your partnership with us in the Gospel.
Placemats
Order Council of the North placements for Lent/Easter or Advent from the Resources order form webpage.
More resources:
Council of the North Promotional Videos
Show these videos in your parish when hosting a 'Council of the North Sunday'! You can also order a DVD copy of from the Resources order form page.
For more information please contact Council of the North Communications at: [email protected].
Subscribe to our email list to receive newsletters and updates about the Anglican church's ministry in the Council of the North.