Commemoration
of the
Battle of Britain
Arrival of General Officers
National Anthem
O Canada! Our home and native land!
True Patriot love in all thy sons command.
With glowing hearts we see thee rise,
The True North strong and free!
From far and wide, O Canada,
We stand on guard for thee.
God keep our land
Glorious and free!
O Canada, we stand on guard for thee.
O Canada, we stand on guard for thee.
Remove Headdress
Welcoming Remarks – Chaplain
In the presence of Almighty God we have gathered to commemorate the Battle of Britain to give thanks once more for the liberty which that Battle preserved for us and the world. We remember with gratitude the dedication and heroism of members of the Royal Air Force and the allied air forces. We remember their successors, our colleagues, now engaged throughout the world.
We affirm again our determination to put an end to all armed conflicts; we express our penitence for those occasions when they become necessary; and we acknowledge with sorrow the suffering and destruction they cause.
We will pray for the Royal Air Force and her Allies that their power and skill may always be used to safeguard justice and peace. We entreat God that we may hold courageously to the values we profess, working untiringly in God's service here on earth.
First Reading – Revelation 22:1-6
Then the angel showed me the river of the water of life, bright as crystal, flowing from the throne of God and of the Lamb through the middle of the street of the city. On either side of the river is the tree of life with its twelve kinds of fruit, producing its fruit each month; and the leaves of the tree are for the healing of the nations. Nothing accursed will be found there anymore. But the throne of God and of the lamb will be in it, and his servants will worship him; they will see his face, and his name will be on their foreheads. And there will be no more night; they need no light of lamp or sun, for the Lord God will be their light, and they will reign forever and ever. And he said to me, "These words are trustworthy and true, for the Lord, the God of the spirits of the prophets, has sent his angel to show his servants what must soon take place."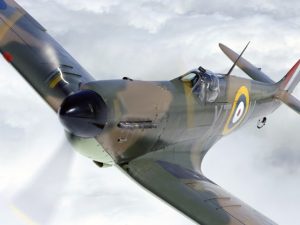 Air Force Hymn – "O Thou within Whose Sure Control"
O Thou within Whose sure control
The surging planets onward roll,
Whose everlasting arms embrace
People of every clime and race,
Hear Thou, O Lord, a nations prayer
For those Thy children of the air!
Thou at the impulse of Whose will
A troubled Galilee grew still
Thy chart and compass shall provide
Deliverance from storm and tide
Hear Thou, O Lord, a nations prayer
For those Thy rangers of the air!
Across the ocean, dread and deep,
Above the forest's lonely sweep,
Or when through serried clouds they rise
And hidden are from mortal eyes;
Hear Thou, O Lord, a nations prayer
For Thy crusaders of the air!
Uphold their shining argosies
Upon the vast ethereal seas;
Encompass Thou their valiant wings
In all their brave adventuring;
Hear Thou, O Lord, a nation's prayer
For these Thy children of the air!
Second Reading – John 15:12-17
This is My commandment, That you love one another as I have loved you. No one has greater love than this, to lay down one's life for one's  friends. You are My friends if you do what I command you.  I do not call you servants any longer, because the servant does not know what the master is doing; but I have called you friends, because I have made known to you everything that I have heard from My Father.  You did not choose Me but I choose you.  And I appointed you to go and bear fruit, fruit that will last, so the Father will give whatever you may ask him in My Name.  I am giving you these commands, so that you may love one another.
Prayer – Chaplain
Not unto us, but unto you, Gracious God, do we give the praise and thanksgiving for your mercy and deliverance in time of need.  We give you most heartfelt thanks for victory in the skies during the Battle of Britain. Grant as we commemorate the courage and sacrifice of the few, that we may ever seek your grace to follow their example in the paths of duty and service.  We pray also, that we too may accept and perform that which you have entrusted to us, O God, with the same faithfulness and valour so that the earth will be filled with your knowledge, your love, your justice and your peace.  Amen.
Address
Laying of Wreaths
Roll of Honour
Act of Remembrance – Chaplain
Almighty God, into your hands we commend the souls of those who laid down their lives for the cause of freedom, praying that you would grant them the joys of your eternal kingdom, and, to all who mourn them, fortitude of spirit and constant faith in the power of your love.  AMEN
They shall grow not old, as we that are left grow old:
Age shall not weary them, nor the years condemn.
At the going down of the sun and in the morning
We will remember them.
(All) We will remember them
Replace Headdress
The Last Post
Lowering of Flags
Two Minute Silence
"The Lament"
"Reveille"
Raising of the Flags
Concluding Prayers
A Prayer for the Air Force
Almighty God, whose loving care encompasses even the sparrow in its flight, guide and protect, we pray, all those who fly the uncharted spaces of the sky.  Bless those who, through service in the Air Force, stand guard over the sacred trust of home and country.  Endow them with wisdom and understanding that they may clearly see the path of duty and courageously devote themselves in service to the nation they love.  In the solitude of flight, may the beauty of your greatness be revealed to them, that they may pattern their lives in accordance with your will.  Extend your strengthening presence to those who wait at home, and may they ever know your watchful care will keep safe their absent ones.  Let your blessing be upon us, O God, we pray.  Lead us to carry on the trust left to us by those who have given with honour their lives in service of their country.  May we find peace in the knowledge of our mission accomplished and their task completed, united forever in faithful service. Amen.
A Prayer for Peace
O God, the author of peace and lover of concord, from whom true peace comes, open our minds and hearts to a true love of peace. Defend us your servants from the assaults of our enemies, that we may trust in your defence, and not fear the power of any adversaries.  Guide us always in the ways of peace and charity for all nations and peoples, and grant wisdom to all in authority, that justice may preavail here on Earth as it is in Heaven.  Amen.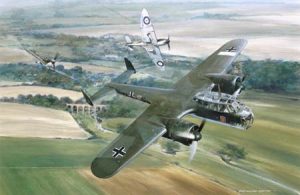 Poem – "Somewhere in England"
Somewhere in England there's a little town
With thatched roof houses of ancient renown,
In the drowsy stillness of a summers day,
A handful of people are wending their way.
To a little stone church on a hillside green
Where the flag of Empire aloft can be seen
There in the Churchyard, with sanctity blest,
A Canadian flyer is laid to his rest.
Far from home and those he holds dear,
He is cared for with reverence by the village there,
His last resting place is hallowed with love,
And the flowers of England are planted above.
Hymn -"Abide with me"
Abide with me, fast falls the eventide,
The darkness deepens, Lord, with me abide,
When other helpers fail, and comforts flee,
Help of the helpless, O abide with me.
I need Your presence every passing hour,
What but Your grace can foil the tempter's power?
Who like Yourself my guide and stay can be?
Through cloud and sunshine, O abide with me.
I have no fear with You at hand to bless,
Ills have no weight, and tears no bitterness;
Where is death's sting? Where, grave, your victory?
I triumph still, if You abide with me.
Blessing – Chaplain
May God bless you and keep you.  AMEN
May God's face shine upon you and be gracious to you. AMEN
May God look upon you with kindness and grant you peace. AMEN

Royal Anthem –  "God Save the Queen"
God save our gracious Queen,
Long live our noble Queen;
God save the Queen.
Send her victorious,
Happy and glorious,
Long to reign over us:
God save the Queen.
Departure of General Officers
Parade Dismissed