My Role in the CFDS – Captain Catherine Askew: Supporting operational readiness through spiritual health


Padre Askew's job as a CF chaplain often means that no day is like another. As a member of the Forces and an officer, she deals with the usual e-mail, phone calls and paperwork every day. However, her work is directed mostly by the needs of the people she serves. [More…]
Navy presents Centennial Bell to Canada
"The Maple Leaf", 19 May 2010, Vol. 13, #17
by Darlene Blakeley
In the hallowed hall of the Senate of Canada, 100 years to the day it was created there on May 4, 1910, the Navy presented a ship's bell to the people of Canada, rededicating itself to another century of service.
"[The Centennial Bell] stands as a symbol that honours the past, celebrates the Royal Canadian Navy's achievements and recognizes the Navy's safeguarding of Canadian values of freedom, democracy, respect for human rights and the rule of law," said Defence Minister Peter MacKay.  [More…]
Clergy get "behind fence line" view of military chaplaincy
By Capt Jeff Noel, 17 Wing Winnipeg Public Affairs Officer Members of Anglican Regional Clericus learn firsthand how CF chaplains operate"It was a very worthwhile and eye-opening experience for me," said Rev. Canon Dr. Brett Cane, the Rector of St. Aiden's Anglican Church in Winnipeg. "I had no idea how military chaplains work or of the crucial roles played by our Forces personnel at the Wing." [more…]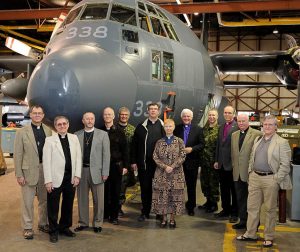 L'aumônerie militaire expose sa dynamique au clergé
Par le Capt Jeff NoelDes membres du clergé de l'Église anglicane régionale apprennent le travail des aumôniers sur le terrain« Ce fut une expérience enrichissante et qui m'a ouvert les yeux », affirme le révérend chanoine Brett Cane, recteur de l'Église anglicane de St. Aiden's, à Winnipeg. « Je ne connaissais pas du tout le travail des aumôniers militaires ni le rôle essentiel que joue notre personnel des FC dans l'Escadre. » [plus…]
Minister Of National Defence Announces Selection Of Future Chaplain General
NR-10.025 – April 8, 2010
OTTAWA, Ont. ─ The Honourable Peter MacKay, Minister of National Defence, is pleased to announce the selection of Padre Karl McLean as the next Canadian Forces Chaplain General. Colonel McLean will be promoted to the rank of Brigadier-General and assume command of the Chaplain Branch later this year, succeeding Brigadier-General David C. Kettle, who will retire.     [more…]
HMCS Fredericton: An "answer to prayer" for girl's hostel
by Padre Jennifer Gosse and Lt(N) Christ Grant, Logistics Officer
Photos by Cpl Peter Reed, Image Technician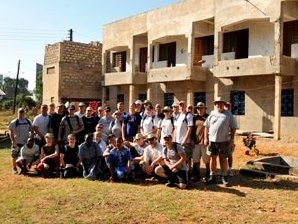 On 1 Jan, 2010, about 30 members of Her Majesty's Canadian Ship (HMCS) Fredericton rang in the New Year in a very exciting way: doing some good work for some very deserving people.  Ship's companies often take part in humanitarian projects during their deployments.  Fredericton chose to help out at a girls' hostel while in Mombasa, Kenya over the New Year holiday.  [more…]
Anglican chaplains bring "spiritual breath" to Haiti
Ali Symons, Anglican Church of Canada
February 26, 2010 –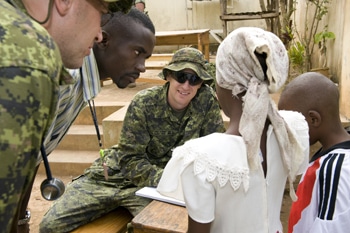 When Canada's Disaster Assistance Response Team (DART) arrived in Jacmel, Haiti, two days after the earthquake, the staff included medics, engineers, and a chaplain, Anglican Padre Shaun Turner.
Today, eight chaplains—two of them Anglicans—provide spiritual and ethical support to the Canadian Forces in their humanitarian mission to Haiti, devastated by a Jan. 12 earthquake that killed more than 200,000 people and displaced another million.    [more… ]
Airmen turn to padres in wake of horrific news
The following article appeared in the Belleville IntelligencerLUKE HENDRY The Intelligencer
8 WING-CFB TRENTON — They are shaken and hurt.
They have received encouraging messages from across the country, yet some have spat upon a few of their number.
They are the Canadians who work at the country's largest air base.
Like the rest of the Canadian Forces, they have said very little publicly since Col. Russ Williams, this base's top officer, was arrested Sunday in the killings of two area women and attacks on two more.
But throughout, they have been talking to a small group of chaplains.
Wing Chaplain Stephen Merriman calls it "a ministry of presence.
"I don't want to see the chaplains in their offices," Merriman said. "I want to see them with their people."  So when news of Williams' arrest broke, the chaplains did what they do every day: they went walking.