by Padre Shaun Turner, Petawawa
Ministry thus far in the Canadian Armed Forces has taken me halfway around the world to an airbase in support of the war in Afghanistan, south to the Caribbean in response to a humanitarian crisis and across Canada exercising with the Army.  No matter where I have gone in this work, it has been amazing to labour along side and support Canada's heroes.  For 3 1/2 years, it was my honour to be the Regimental Chaplain of the Royal Canadian Dragoons (RCD), Canada's oldest Armoured Regiment.
For the last decade, ministry in Canada's Army has been a robust experience of Exercises in the field, demanding physical training and rear-party ministry for Regiments at war.  It involves a balance of advising the Chain of Command on morale, welfare and spiritual well-being, offering  counsel to soldiers and their families and providing ministry of presence to the troops in the field.  In my time with the RCD, I was able to deploy on a regular basis with our soldiers to the Petawawa training area, Meaford, Northern Ontario and Wainwright, Alberta.  Depending on the season, the Padre could be beside soldiers learning survival in minus 50 degree weather, riding along on armoured reconnaissance in the dusty fields of Wainwright or bashing through the woods in Full Fighting Order (full kit with flac vest, ballistic wear and helmet); all the while with your own tent and a communion kit in tow.  In one of my most memorable moments as a Chaplain in the Canadian Armed Forces,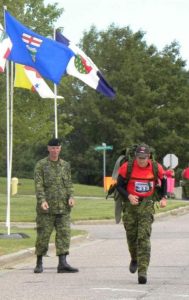 I was also able to join the Regiment's 100-solider strong Iron Man Team in 2011 for the CFB Petawawa's annual 52K race.  Whatever it is the Chaplain jumps into, the primary goal is always connecting with the troops, sharing in their daily life and supporting them and their families in any way possible.  We call this "Ministry or Presence" and it is the back-bone of our work.
The biggest challenge in Army ministry remains providing spiritual support to families and the Regiment after one of our warriors has fallen.  This involves supporting and accompanying our Commanders during Next-of-Kin notifications, providing spiritual care to the families and celebrating or supporting in family and unit memorials.  This is a part of the ministry that no one desires to have to undertake, yet is a honour and a privilege to take up. The highlight of ministry to the Army is the team aspect of our ministry.  No Chaplain is an island, and I have enjoyed the best colleagues and leaders that Christian ministry has to offer while here in Petawawa.  Our shared experience and mutual support makes ministering in the Army an exciting and life-giving experience. Army Chaplaincy to Canada's Warriors, there is no life like it!  HUA!