Heavenly Work: Hangar Line Chaplaincy
By Padre (Capt) Gordon Mintz
"Room!" barked the Squadron Chief Warrant Officer as he entered the theatre hall with the Commanding Officer, drawing the squadron to attention for the morning brief which would formally begin the day.  This used to be called morning prayers and is a briefing about the daily weather, maintenance and flying schedule, and upcoming missions. Other announcements might include a word or two from the Padre.  Morning brief was a great opportunity to be current as to the squadron happenings and to see as many people as possible.  Invariably, someone would ask to see me after or suggest I pay a visit to another squadron member for whom they had a concern.  It often reminded me of the time following a service where the parish priest would greet the congregation at the door and hear its concerns.   Hangar 16 at 17 Wing/CFB Winnipeg was my responsibility which included 435 and 402 Squadrons, Wing Operations, and the Military Police (MPs) whose hockey team I joined.  It was my first posting after joining the Canadian Armed Forces and I thoroughly enjoyed serving my new "parish".
A typical day could involve meeting people in my office for scheduled appointments, attending various other meetings, or going along on training missions where Search and Rescue Technicians (SAR Techs) would practice their skills, aircraft were refuelled in the air, or future navigators were trained.  It was never the same twice.  Sometimes I would work alongside the maintainers handing them tools or go on "ride-alongs" with MPs in their police cruisers as they made their rounds.  The goal was simple: to take advantage of opportunities to get to know the squadron members better and, in turn, let them get to know me.
As a Padre it is my responsibility to provide a "ministry of presence" for the members I serve. Trust is the essential ingredient in establishing the relationships to underpin a fruitful ministry to the troops.  Trust is earned and freely given if the chaplain to the unit is someone who is known and makes the time to learn the unit's functions, roles and personalities that make up the squadron.  I was able to travel with and spend time with the squadron on exercises and deployments which allowed many connections to be built with the members and their families.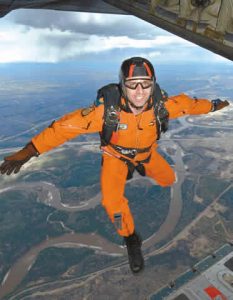 I have to admit that most days I felt like a little kid going to work and getting to fly in the Hercules (CC-130H) or Gonzo (CT-142 Dash-8) aircraft with the crews as they continued their training or executed their missions.  It was a lot of fun to see parts of Canada, the US and Europe out of the portal window of the Hercules aircraft, especially when refuelling trailing F18s.  More importantly these flights facilitated my ministry of presence.  You can have amazing conversations in the back of an aircraft on a long flight to resupply CFS Alert in the high Arctic or training over the desert in Southern California.
There were many opportunities to talk about faith and the faith journey of the members I served, and to learn where they found meaning and purpose in life.  One example of that meaning is the SAR motto of "That Others May Live". When the rear of the Hercules opened up to the heavens, allowing supplies to be dropped or SAR Techs to jump, it was always a magnificent and awe-inspiring site,  Whether we were over the mountains, prairies or the North, God's handiwork was everywhere and obvious, leading to many rich conversations.
The work was certainly not without its challenges.   The call might come in to rescue stranded hunters on ice flows, mountain climbers who were missing or aircraft that were overdue. One literally never knew what would happen each day and one always had to be prepared. Sometimes these missions meant that crew members would go to work that day and not come back for 14 days if called away for a major search. Such tasks required the commitment and, at times, sacrifice of the entire family.  These are a group of very dedicated and selfless Canadians and it was a privilege for me to serve as their chaplain.
I now work as headquarters staff in a job where administration is the bulk of my ministry.  However, there is always time to be present with, and more often than not, blessed by sharing time and conversation with the members of our Canadian Armed Forces with whom I serve.