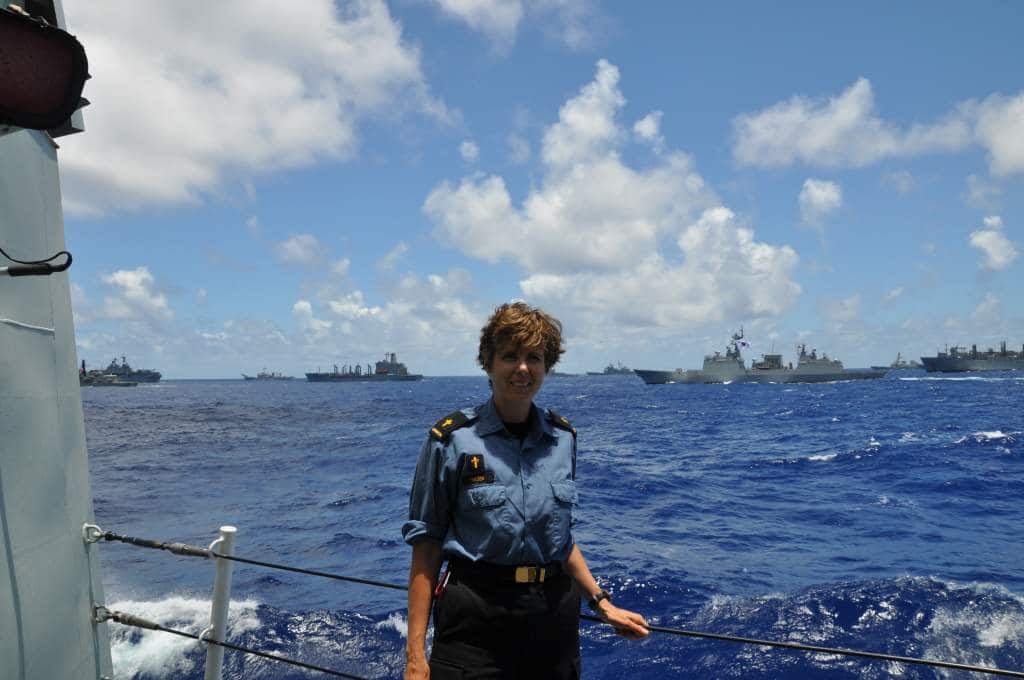 A Glimpse into the Life of an Anglican Chaplain with the Royal Canadian Navy
By Lt(N) the Rev'd Jeannine Friesen
"The Padre needs a jump!" shouted the young sailor. And so, the next morning, I was on a bus in Pearl Harbour heading to the north coast of Oahu with a group from HMCS OTTAWA for a glorious day of sky diving. This port stop was part of the Rim of the Pacific (RIMPAC) Exercise in 2012. It was the largest RIMPAC ever, featuring participation from 22 countries. Canada's involvement included naval, air and land assets. It was my honour to support the Royal Canadian Navy during this exercise.
During this particular port stop, I participated in an International Chaplains Conference. There were American and Australian Chaplains and me, the one Canadian. Part of the conference included a panel of Chaplains discussing how they function on their ships. While much of the work is similar, there are some distinct differences.
While alongside on a port stop such as this, the Chaplain is available to handle any compassionate situations that may arise. It is also an opportunity to make contact with other Canadian ships in port that might require the services of a Chaplain. Such was the case on this stop in Pearl Harbour.
Port stops are only a small portion of any ship's deployment. When at sea, the life of a Chaplain with the Royal Canadian Navy is busy and challenging. The day begins with "Wakey-Wakey": a Bosun's whistle broadcast over the ship's speaker system announcing the call to breakfast. As far back as the 13th century, crew members onboard Navy ships had to find a way to communicate quickly with other sailors on board. Without the modern technology of speakers or sirens the high-pitched tone of a Bosun's whistle could easily be heard even over the sounds of the crashing waves. Today our Royal Canadian Navy ships, even though equipped with hi-tech communications systems, continue to use a broadcasted Bosun's whistle to announce meals and duty-watch changes, as well as specific shipboard evolutions.
A good portion of the Chaplain's day at sea involves visiting sailors in the spaces in which they work. The Padre can go almost anywhere on the ship in order to be with the men and women where they are employed. This is an extremely privileged position and it provides wonderful opportunity to get to meet the crew on their turf, and to exercise what chaplains refer to as a ministry of presence. The goal is to give the crew a chance to get to know you so that when they need someone to talk to, or if they want to discuss a problem, they will know the Chaplain is around and available. Often the Padre will serve meals in the Galley in order to see the crew. During the day, the job also entails liaising with the ship's Command Team and Officers concerning any morale or compassionate issues which may be developing.
A chaplain's day will also entail some time spent in personal devotions and making preparations for that week's service of worship. Space on the ship is limited and needs to be negotiated so there will be a suitable place to hold weekly worship service. The Chaplain makes contact with members of the ship's company who might be willing to read, play the guitar or assist in some other way with worship. During my sail with HMCS OTTAWA in December 2012 we organized a Christmas Lessons and Carols service which was well attended by the Officers and Crew.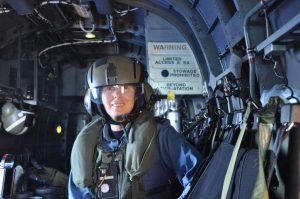 My tours around the ship afford me some unique opportunities. During RIMPAC, I went for a flight with the Sea King helicopter onboard the ship. As we flew around the Hawaiian Islands I mused that I was most likely the only Anglican Priest in a Sea King helicopter that Sunday.
There are regular opportunities for physical fitness while sailing. As a member of the Canadian Forces, Chaplains are expected to meet the same physical standard as any other service member. There are often treadmills, stationary bikes, weights and other fitness equipment onboard. Sometimes there are exercise groups organized as well. If the Chaplain can take part in one of these, they are excellent times to connect with the crew. It is exhilarating to workout on the flight deck as the sun rises over the Pacific.
The time spent at sea with the men and women of the Royal Canadian Navy is a blessing and it pays great dividends when the Chaplain returns to home port. After living and working with a ship's company for a period of time, the Padre now knows a large number of sailors and officers and vice versa. Our relationships and connections continue to bear fruit long after the sail is over.
Let me conclude by returning to the island of Oahu. As the OTTAWA group prepared to head up for our skydives, one anxious sailor came over to speak with me. "Are you praying for me?", he asked. "Yes", I assured him, "I'm praying for all of us". Even on a port stop activity a Chaplain has pastoral work to do. I am very happy to report that all of the skydivers made it back to the ship in one piece with great stories to tell.