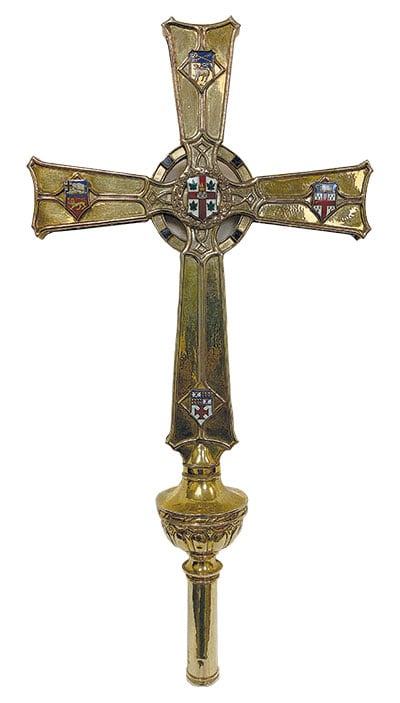 In 1934 Mr. Reginald V. Kelly, then Chancellor of General Synod, moved a resolution which was unanimously carried "that a Primatial Cross be procured, to be borne before the Primate on occasions".  "After much enquiry and research, a very beautiful design was selected from many submitted by various craftsmen in Canada and England.  Following approval of the design by the Executive Council an order was placed for its manufacture, the Cross being delivered to the Synod in time for its presentation at the meeting of the General Synod at Halifax in August, 1937, the 150th anniversary of the Consecration of Bishop Charles Inglis, the first bishop of the Canadian Church."
"This Cross bears on one side, at the extremities of the Arms of the Cross, the Symbols of the Four Evangelists, and in the centre the Paschal Lamb".  [The four symbols of the Evangelists are: Matthew, a man; Mark, a lion; Luke, an ox; and John, an eagle.]  "[O]n the other side are depicted the Arms of the four original Dioceses of the Canadian Church, out of which has been carved the Church in Canada, namely, Nova Scotia, Quebec, Rupert's Land, and British Columbia.  The centre of the Cross was left blank for the arms of The General Synod.  [An application had been made and was later granted.]  "This beautiful Cross, paid for almost entirely by the members of the General Synod, was consecrated by the Primate, [Derwyn T. Owen] at the Opening Service of the Synod in Halifax in 1937".  The Synod Journal from 1937 (p. 5) noted: "A very beautiful, dignified and inspiring [Opening] Service [29 August 1937] was brought to a close with the solemn Benediction pronounced by the Celebrant who used the new Primatial Cross for the first time for that purpose".
The Cross is made of silver gilt and was manufactured by J. Wippell & Co. Ltd., Exeter, England.  The total cost of the Primatial Cross, including its case, was $534.45, all of which was paid for by the subscription of General Synod members.
---
Excerpted for the most part from the undated [ca. 1956] pamphlet Insignia : The Anglican Church of Canada : The Corporate Seal, the Primatial Cross, the Arms of Synod, the Church Flag prepared by R.V. Harris.